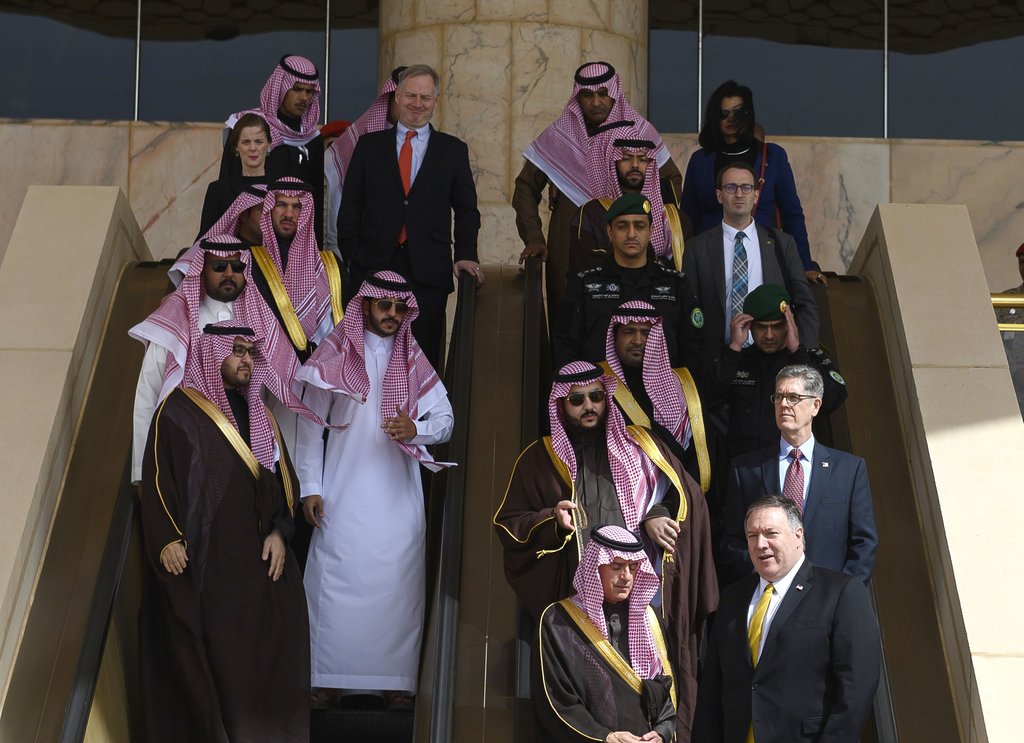 By Edward Wong and Ben Hubbard
RIYADH, Saudi Arabia — In a barnstorming tour that took him to eight countries in one week, Secretary of State Mike Pompeo burned with one central message: "The need to counter the greatest threat of all in the Middle East, the Iranian regime and its campaigns of terrorism and destruction," as he put it in Cairo on Thursday.
Jetting from capital to capital, meeting with kings, princes and presidents, his goal was to get Arab countries to work together to roll back Iranian influence in the region and take on the militias Iran is backing.
But as the trip drew to a close on Monday, it was unclear whether he had made any notable progress on that front. The obstacles toward building such a coalition are formidable.
In practice, it will be difficult for the Arab nations to work closely together on anti-Iran policies because of the complexity of relationships in the region, officials and analysts from those countries say. The Iranian-backed militias Mr. Pompeo wants to rein in vary widely and would resist a one-size-fits all solution: Hezbollah is a major force in the government of Lebanon, the groups in Syria work mostly apart from one another in the war zone, and those in Iraq have great influence in the oil-rich south.
American officials have had difficulty coordinating their own anti-Iran policy beyond economic sanctions, which Mr. Trump imposed in November after withdrawing from a nuclear arms agreement that the Obama administration and other governments had reached with Iran.
Against the wishes of all his top national security officials, Mr. Trump decided last month to withdraw about 2,000 American troops from eastern Syria, which would cede any leverage the Americans had to limit the presence of Iranian forces and Iranian-backed militias there — precisely the goal that Mr. Pompeo was asking Arab partners to take up across the region.
And Mr. Pompeo offered no explanation of how he expected other countries to do the job.
When asked Monday what the United States wanted Arab nations to do to get rid of the militias, Mr. Pompeo did not give specific answers.
He said Iran aimed to dominate "five capitals," a reference to the government seats of Iraq, Lebanon, Syria, Yemen and Iran itself.
"And our effort is to make sure that the Iranian people get control of their capital, and that it becomes a nation that is normal and isn't conducting terror campaigns that are unrivaled anyplace else in the world," he said.
threat.
"We all have problems with Iran's expansionist policies in the region," Jordan's foreign minister, Ayman Safadi, said in a news conference with Mr. Pompeo in Amman last week. "All Arab countries, and I think the United States too, would want healthy relations based on the principle of nonintervention in the internal affairs of the other, and respecting the sovereignty of other countries."
In Cairo, Mr. Pompeo said that Egypt, Oman, Kuwait and Jordan had been "instrumental in thwarting Iran's efforts to evade sanctions." And he said that Bahrain was working to combat Iran's "illicit maritime activities" in the region.
Mr. Pompeo has not yet proposed that Arab nations outside the war zones send troops to fight the militias, though he has left open the possibility of the United States helping piece together an Arab military coalition to move into northeastern Syria as the United States withdraws.
In any case, troop deployments could prove to be as ineffective as they have been in Yemen. Since 2015, Saudi Arabia, one of the world's largest spenders on military hardware, has failed to oust Houthi rebels who are aligned with Iran from the capital of Yemen, the Arab world's poorest state. The fighting has resulted in the world's worst humanitarian crisis.
The creation of a unified Arab coalition against Iran would require resolving many political, economic and military issues among Arab countries.