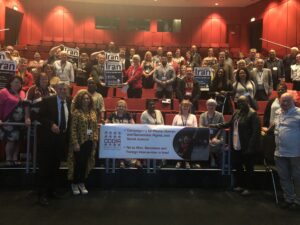 UNISON National Delegate Conference 2019, Liverpool
UNISON's general secretary, Dave Prentis, spoke yesterday at UNISON's International Rally ahead of the union's National Delegate Conference in Liverpool in response to a question from Jamshid Ahmadi, Assistant General secretary of CODIR. Mr Ahmadi asked UNISON's opinion on foreign secretary, Jeremy Hunt's statement that Britain agrees with the US position regarding critical developments in the Persian Gulf.  Mr Hunt has said that the attacks on two oil tankers in the Gulf of Oman were "almost certainly" carried out by Iran. He claimed they built on a pattern of destabilising behaviour on the part of Iran that poses a series danger to the region.
CODIR's representative expressed his concern about developments in the region and indications that Britain would join a US military adventure in the Persian Gulf. In response, Mr Prentis, General Secretary of UNISON, said that:
The situation in the Persian Gulf is becoming more dangerous by the day. We need to ensure that we don't end up with a new war in the Middle East.  That will be disastrous for the region. I would advise Jeremy Hunt to think twice about rushing into making any decision about the recent incident involving the two tankers before all details and aspects of the situation become clearer.   The facts about the incident involving the tankers are not clear.  Some aspects of the situation as reported by the US do not add up. The video presented by the US is very faint, in black and white and pixelated.  Britain should not blindly follow the policies and actions of the United States in the Persian Gulf.  Europe and the world are still struggling to get into grip with the consequences of the military adventures and humanitarian disaster that followed such moves in Iraq, Syria and Libya.  I would say that the very dangerous situation we are facing in relation to Iran is the direct consequence of Donald Trump's decision for the US to leave the 5+1 agreement with Iran regarding the development of Iran's nuclear technology. Mr Prentis said, "I advise Jeremy Hunt to direct his efforts towards solutions based on dialogue and negotiation that could resolve disputes and disagreements through peaceful means."
At the end of the rally Dave Prentis, international guests of the conference and UNISON international activists from across the county joined a photo shoot supporting the "campaign for peace, human and democratic rights and social justice" and "rejecting war, sanctions and foreign intervention" in Iran.