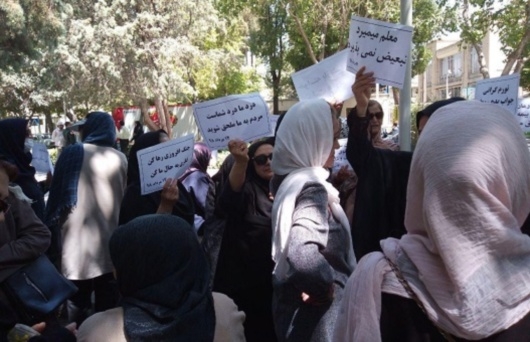 Teachers nationwide protest in Iran 4-5 August
On Sunday and Monday, thousands of teachers in Tehran, Ahvaz, Kermanshah, Tabriz and Isfahan protested outside regional Education Department offices calling for real and positive action by the authorities in response to their demands.  The nationwide protests were called and coordinated by the Council for Coordination of Teachers Professional Associations.  Retired teachers, hourly-paid teachers and those on short-term contracts also participated in the significant protests.  In Tehran, there were more than a thousand protesting teachers gathered.  In Isfahan, the protestors released a statement emphasising their demands were common with those of teachers in other provinces, including the demand for the release of all teacher trade unionists and educators arrested for engaging in legitimate trade union activities. They also demanded all pending cases against teacher activists be dropped and heavy bail conditions nullified.
Other demands included the elimination of legal barriers to the open, free and official operation of teachers professional and trade union organisations; the implementation of teachers job specification plans; a pay increase for the profession; and payment of all overdue salaries and overtime. Their demand also included a request for a guarantee that their salaries would be above the real poverty threshold.
In Isfahan, security forces prevented parents of school pupils from joining the teacher's action.
In Tabriz, various protestor placards read, "A teacher's place is not in prison!"  "We demand a pay increase for teachers!" and "We support quality and free education for all in the country!" The protestors also demanded the implementation of a teacher rating plan, complementary insurance packages, the rollout of immunisation as well as the renovation of schools in the country.
The Coordinating Council for Coordination of Teachers Professional Associations have in recent years campaigned for a quality, fair and progressive education system in the country as well as respect for the right of teachers to get involved in their own free trade unions.  However, they have reported that a number of teacher activists remain in prison.  Ismail Abdi, Mohammad Habibi, Mahmood Beheshti Langaroudi, Abdulreza Ghanbari and Mohmmad Thani are amongst that number.
CODIR has called for the immediate release all of these trade unionists and for the regime to implement and adhere to ILO Core Conventions, including 87 and 98.