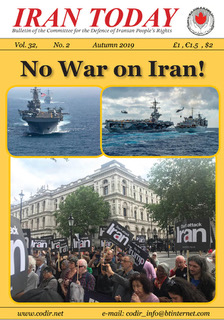 The Autumn issue of Iran Today, the progressive campaign for peace, human and democratic rights, and social justice in Iran was published by CODIR on Thursday 22 August!
The Autumn 2019 issue covers a whole host of important features including:
– the rising tensions in the Persian Gulf between the US and Iran,
– the relationship between the struggle for peace and democracy in Iran,
– an interview with the leader of Metalworkers and Mechanics trade union in Tehran on the challenges facing independent trade unions in the country,
– the campaign by Iranian teachers for fairer salaries, better conditions of service, and a progressive education system,
– the situation of women in Iran,
– the rise of child labour, and
– inequality in the labour market.
Five national trade unions including UNITE, NEU, NASUWT, FBU and NW region of UNISON, have taken out solidarity adverts in this issue.
For the first time, the progressive Iranian peace campaign, ADPSD-Iran, has also taken out an advert in this issue declaring its support for CODIR's campaign: "Say No to War on Iran".
If you would like to receive printed copies of the magazine please e-mail CODIR at

codir_info@btinternet.com

  They will be posted first week of September.
For the online version of Iran Today please click here.