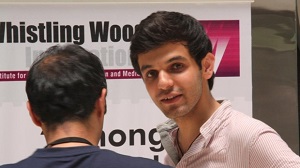 Conviction follows similar punishments for other artists and filmmakers in Iran
An award-winning Iranian filmmaker whose work focuses on the travails of modern life and political expression in the Islamic Republic has been sentenced to six years in prison and to 223 lashes for his movies.
The conviction of Keywan Karimi follows similar punishments for other artists and journalists in Iran, even as its moderate government moves toward detente with the West over its contested nuclear program. The case underscores both the murky limits of expression in Iran and the power hard-liners still maintain in the country.
"I don't know what happened that I should go to jail for six years," Karimi told The Associated Press. "I speak about the government, I speak about society, I speak about (graffiti), I speak about a labourer.
"Watch my movies and … (then) judge me."
Both Karimi and his lawyer Amir Raeisian say a court on Saturday sentenced the filmmaker on charges of "insulting sanctities" in Iran, whose elected government is ultimately overseen by Supreme Leader Ayatollah Ali Khamenei.
The footage involved both a "video clip" and a film he directed calledWriting on the City, which focuses on political graffiti in Iran from its 1979 Islamic Revolution to its contested 2009 election.
Free pending planned appeal
Iranian state media and officials have yet to comment on Karimi's case. Both Karimi and Raeisian say they will appeal. Karimi remains free for the time being.
Karimi is perhaps best known by international film critics for his 2013 black-and-white minimalist film, The Adventure of the Married Couple. The short film, based on a story by Italian writer Italo Calvino, follows the grinding routine of a husband and wife working opposite shifts, she in a bottle factory and he at a mannequin store. Neither speaks, the only noise is the hum of the city they live in.
The film played in some 40 film festivals and won prizes in Spain and Colombia.
Hardliners concerned
The case against Karimi comes as hard-liners have accused moderate President Hassan Rouhani of failing to stop the spread of "decadent" Western culture in Iran.
In May 2014, authorities arrested a group of young Iranian men and women for a video of them dancing to Pharrell Williams' songHappy. While the arrests drew widespread criticism, including from the musician himself, those involved each received suspended sentences of six months in jail and 91 lashes.
Meanwhile, Washington Post journalist Jason Rezaian, a dual U.S.-Iranian citizen, has been detained in Iran for 14 months and was recently convicted on charges that include espionage. He reportedly faces up to 20 years in prison.
For Karimi, he said his case made no sense as Tehran University had supported his work on filming and producing Writing on the City. In the time since, however, he said the university students involved in the project have shunned him over the trouble he's seen, including when authorities raided his home and destroyed some of the hard drives and a laptop holding his work.
'Really shaken'
"I don't know what will happen," he said Tuesday. "I'm really shaken about this judgment."
Karimi said another of his films, the short documentary Broken Border, also may have angered officials. That movie focuses on the smuggling of Iran's subsidized gasoline over the snowy Zagros Mountains separating the Islamic Republic from Kurdistan in Iraq.
The 18-minute movie needs only the film's one scene of dialogue in a rural classroom to explain it.
"Now what is a border?" a teacher asks.
A young student responds: "A border is where goods are smuggled."