As the people of Iran struggle to survive the biggest COVID-19 outbreak in West Asia, Liz Payne examines the plight of thousands of the country's nurses serving at the front line.
On 26 July 2020, a large demonstration gathered outside the Ministry of Health building in Tehran. Protestors included health workers from across the board – doctors, anaesthetists, operating theatre staff, psychologists, nutritionists, laboratory workers and many nurses. As a second wave of COVID-19, much greater than the first, swept Iran, the demands of these much-lauded 'frontline fighters' focussed on the abysmal state of the public health service, in a country where only the super-rich can buy the medical care they need, at a price far beyond the reach of the vast majority of Iran's 85 million population.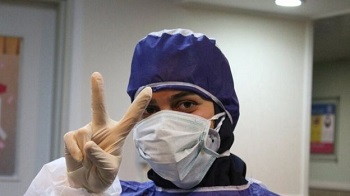 Those assembled in front of the ministry that day shone a light on the regime's long-term failure to address staff shortages, the de-professionalisation of health work, widespread use of private recruitment agencies to hire staff on detrimental and insecure temporary contracts, poverty wages and unsafe working conditions. This huge protest came only days after nurses held a demonstration outside the headquarters of the judiciary in Mashad. On that occasion, the regime's security forces physically attacked the peaceful gathering and made ten arrests. This time, in the capital city, banners reminded the Ministry that these were the demands of skilled, professional workers and they were calling for real and immediate change.
The nurses of Iran are desperate. In terms of wages, they are the poorest of the poor in the health service, with pay falling as low as 20% of that on the poverty line. They work in obsolete premises. Few state hospitals have been built in recent decades. Of those serving the 15 million people of greater Tehran, only one has been constructed since the 1979 revolution. In some states not a single new hospital has been put up since the theocratic regime came to power. Little, if anything, has been done by way of modernisation of the old and dilapidated provision. This has led to tragedy, as when a basement explosion at Sina At'har Clinic, north Tehran, left 19 dead and others injured on 30 June.
The deplorable condition of the hospitals is just one of the factors fuelling the shocking statistic that over 9,000 nurses have contracted coronavirus, as announced by the Head of Iran's Nursing Organisation on 15 July. In one hospital every member of the anaesthetics team was infected. Other factors include chronic staff shortages, resulting in forced overtime and long shifts of up to 19 hours, with constant exposure to the virus and permanent exhaustion that weakens workers' immune systems.
Many nurses have died, including Zahra Shiroieh, the Head of Nursing at Borujerd General Hospital. She was a much-loved figure, as was proven when the whole town turned out for her funeral procession, lining the streets to wait their turn to lay flowers as her coffin passed. President Rouhani, back in May, called them, "health service martyrs". But actions speak louder than words and there's been precious little action by the regime to improve the health service in two generations and a state of denial about the pandemic that amounts to criminal negligence. "We are not witnessing a major crisis", said the head of state on 18 July", while forecasting that 55 to 60 million of Iran's 85 million people would ultimately be infected!
A significant measure of responsibility for the severity of the pandemic must be laid at the regime's door. It has been called incompetent, but that is not the main issue. Wilful disregard for the safety and lives of the majority, amounting to criminal negligence, is. The government even delayed its initial announcement of the emergency to allow the country to turn out to vote in the general election on 21 February. It was then disastrously slow to act, trying to keep business and industry running and profits flowing in, choosing wealth over health at every turn. Even as belated measures were put in place, many employees were being forced to work, including through the period of the spring Nowruz national holiday in the second half of March, notably in the oil, petrochemical and mining industries. When lockdown measures were finally taken, it was already too late, and Iran became one of the worst COVID-affected countries anywhere in the world.
Then, in a desperate attempt to forestall economic collapse, measures were lifted prematurely and millions of reluctant and frightened workers made to return to workplaces. In late April, President Rouhani stated that the government would rather see 2 million dead from coronavirus than 30 million coming to the streets to protest at their poverty and hunger. Temperature checks on employees were now no longer conducted, and often even the most basic protective equipment was unavailable. The government instituted a seven-fold hike in the price of face masks and workers were expected to buy their own. With 70% of workers on the minimum wage or less, many were just too poor to do so. As for testing, people with symptoms had to pay for that too – almost a third of their monthly income. That was out of the reach of most, while a few made their fortunes! As infections surged, the inadequate public hospitals were overwhelmed. According to recent statistics, 25 of Iran's 31 provinces were COVID red zones or rapidly heading that way. The country was recording 2,500 new cases a day, with the death toll soaring. In Zanjan province alone, the General Director of Cooperatives, Labour and Social Welfare announced, on 22 July, that number of industrial and production plants in which COVID was "spreading rapidly" was in double-figures.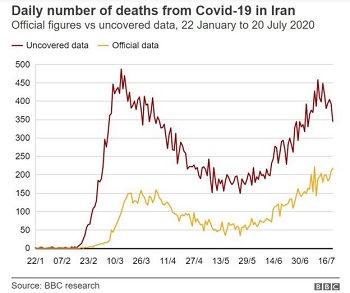 How can the medical services possibly cope? The shortage of nursing staff is chronic. Iran has 1.9 nurses and midwives for every 1,000 people. This is nothing new, and it is one of the worst ratios on the planet, a quarter of the world's average. By way of comparison, the ratio in Norway is 18.2 and in Uzbekistan 11.3. There are an estimated 125,000 vacancies and this is likely to be a conservative figure; calculations of vacancies are made on a hospital bed count rather than a people count and bed spaces at public hospitals are in short supply.
Nurses are desperately needed, but the government is not prepared to pay, and this is where, perhaps, the biggest scandal of all comes in. Rather than hire direct, the Ministry of Health has taken on private agencies to do its recruitment for it, as cheaply as possible. Not only is this an example of privatisation of a public service, with funds going to pay agencies rather than nurses, it is a clear indication of an attempt to depress the wages and conditions of nurses to such an extent that the whole nursing service becomes an attractive proposition for the private profit-driven sector. The government is trying to force nurses onto 89-day contracts, just too short to guarantee them any rights, in a blatant bid at super-exploitation. At Guilan University of Medical Sciences, during the final days of their 89-day contracts, nurses were warned their pay would be withheld unless they signed a new hourly-based contract! The move was met with protest rallies.
Nursing staff are being supported in their demands by the full spectrum of medical professionals, and they are unlikely to back down. Their demands are for better pay, equal recompense for equal work across the sector, a massive fully-funded nurse recruitment drive to eliminate the national shortfall, an end to the involvement of private agencies and exploitative short-term contracts, professional recognition and, of course, safe and hygienic conditions in which to do their jobs. These are basic demands from those on the frontline of fighting the pandemic. Their special protection during the COVID-19 crisis, bonuses for the huge overtime selflessly worked, and paid leave in which to recover from exhaustion should be beyond dispute. If the regime values nurses, as it says it does, it should stop attacking their demonstrations and arresting those who voice concern. Now is the time to act, before the public health system collapses completely.