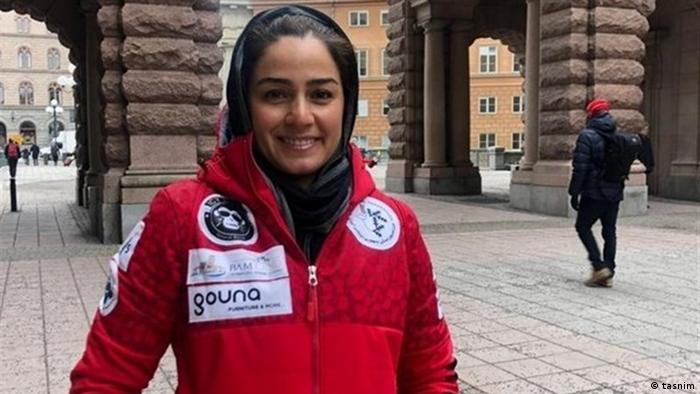 The women's alpine ski team from Iran is at the world championships in Italy without a coach — because her husband has refused to let her to travel.
The coach of Iran's national women's alpine ski team was supposed to fly to Italy with her team on Wednesday morning to compete in the FIS Alpine World Alpine Ski Championships in Cortina d'Ampezzo. But it wasn't until she got to the airport that Samira Zargari realized that she couldn't to leave Iran. The team had to fly without Zargari because her husband had forbidden her from leaving the country — which he is entitled to do under Iranian law.
"It's not the first time," the Iranian skier Forough Abbasi told the press after her first giant slalom run on Thursday. "All the women in Iran, all of us together, I wish we could change it," Abbasi said. "We are trying," She added: "I'm sure strong women can change these rules." 
https://www.dw.com/embed/480/av-44038560
Iran's laws are based on Shariah, some interpretations of which permit men act as women's guardians. Under this system, important decisions in a woman's life are made by men: first by her father or another male relative, then, after she is married, by her husband. It's her husband, for example, who decides whether she can apply for a passport. And she is also only allowed to use the passport to leave the country with her husband's permission. He doesn't have to justify his decision, nor does his wife even have to be informed.
It remains unreported why the 37-year-old Zargari's husband has stopped her from traveling. So far, neither she nor Iran's ski federation has issued a statement. Media report that, the federation tried "until the very last minute" to make it possible for Zargari to travel abroad. The announcement sparked a furore on social media. "The man doesn't even have a name," one comment read. "We only know him as Samira Zargari's husband. Now he's seeing to it that her dream is shattered."
'Any of us'
Zargari is not the first Iranian sportswoman whose husband has kept her from traveling abroad just before an important event. The most high-profile case to date came in 2015 and involved Niloufar Ardalan, the captain of the women's national soccer team. She was about to fly to the Asian championships in Malaysia when she was informed, at Tehran Airport, that her husband, a sports editor at Iranian state television, had refused permission for her to travel. She later said in an interview that her husband had been trying to blackmail her: He wanted her to waive her right to alimony payments if they were to divorce — otherwise he would ban her from traveling abroad. She refused.
Women's rights activists on social media warn that "this can happen to any of us." For years, they have tried to educate women about their rights under existing law. One option, they say, is to make special prenuptial arrangements, Shiva Nazar Ahari, a member of Iran's Committee of Human Rights Reporters, told DW. "This is referred to as 'conditions of the marriage,'" she said. "It allows women to make their own decisions in life after the marriage ceremony."
Nazar Ahari has been arrested repeatedly over the past 17 years and has spent several years in jail. She has lived in Slovenia since October 2018, after being allowed to leave Iran because her husband had signed the prenuptial agreement. "The woman is allowed to demand certain rights of the man as a condition for marriage: for example, the right to divorce, or the right to travel freely," she said. "Unfortunately, though, many women in Iran know nothing about this, even academics or successful sportswomen."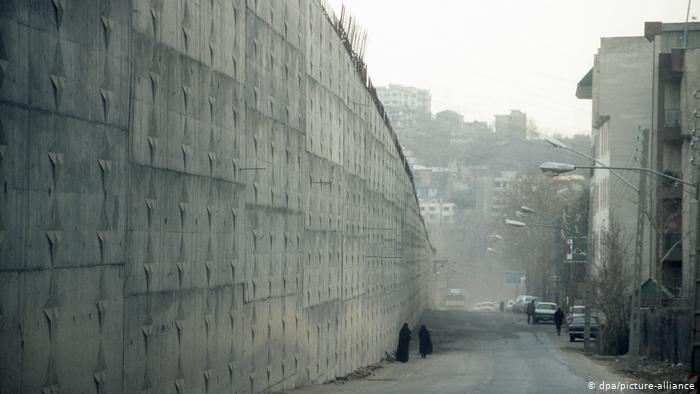 Anyone who campaigns for women to be informed about their rights in Iran risks losing their own freedom — as in the case of the sociologist Najme Vahedi and the lawyer Hoda Amid, who had organized workshops in which they informed women of their legal rights and options. In October 2019, they were arrested and held for over two months in Tehran's infamous Evin jail before being released on bail.
Then, in December 2020, they were found guilty of "collaborating with the hostile American government against the Islamic Republic of Iran on women and family issues." Amid and Vahedi were sentenced to eight and seven years in prison, respectively. Amid was banned from practicing law for two years, and both were told that "certain societal rights" would be revoked for two years. That means that neither can work in the civil service, take jobs in the media, join a trade union or political party, travel abroad, or be given custody of a child even after they are released from jail. This verdict was confirmed by the appeals court on Wednesday, just as the furore on social media erupted over ski coach Zargari's being banned from traveling.
DW