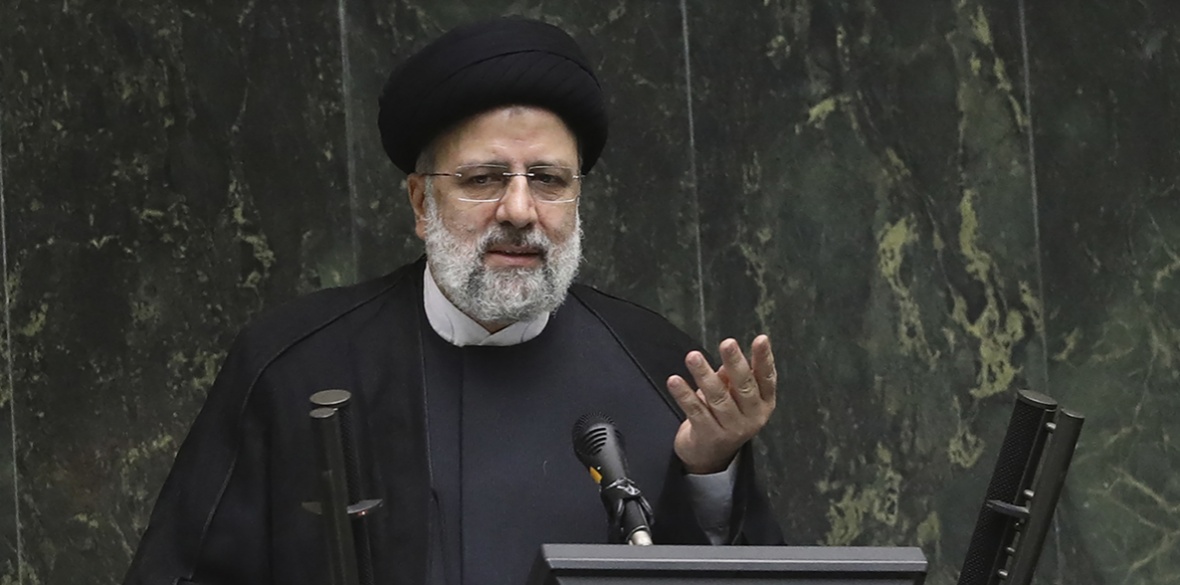 Since the stage-managed and farcical presidential election in Iran on June 18, the dictatorial regime has lurched ever deeper into an ongoing crisis of epic proportions. JANE GREEN assesses the current situation
THE Iranian regime's crisis of legitimacy has been consolidated with the confirmation in presidential office of Ebrahim Raisi, a notorious figure centrally involved in the 1988 mass murder of thousands of political prisoners in Iran.
Raisi came to office following elections where even official figures placed the turnout at just 42 per cent — the lowest by a long margin in Iran's contemporary history. More than 6 per cent of those who voted spoilt their ballots.
The widespread contempt towards the theocratic regime among the vast majority of the Iranian population has been further underscored by a significant wave of industrial unrest in recent months.
Strikes have involved tens of thousands of project workers servicing the country's vital oil and gas fields in the south of Iran (who started their strike the day after the presidential elections and are still refusing to work four months later).
Teachers and miners have been involved in strike action since late September, despite the continual risks and threats their participants face from the regime's security, intelligence and militia apparatus.
Teachers continued their struggle right after the commencement of the new school year, calling for wage increases, immediate payment of the end of service benefits and reinstating unpaid payments to retired educators.
Teachers are also demanding the right to form independent unions and freedom for leading teacher trade unionists currently incarcerated in the regime's prisons.
As well as protesting against the privatisation of education and the presence of temporary contract agencies in education, teachers are calling for the elimination of privatisation from the education system.
Improving the quality of education in public schools which have been run down on purpose through pre-planned schemes are also among the teachers' demands.
The struggle for the demand for independent unions and union rights is also central to the struggle of coal and copper miners who have been in dispute since September.
The miners are demanding an end to privatisation, short-term contract workers and the establishment of full-time employment rights.
They also cite the lack of safety resources at working facilities as resulting in an increase in work-related accidents.
Meanwhile, the regime is desperate to resurrect the Joint Comprehensive Plan of Action (JCPOA), or Iran nuclear deal, with the US.
The Iranian government hopes that a renewed deal will mean they can obtain relief from the sanctions currently choking Iran's economy and finances.
The economy is already devastated by years of endemic corruption, mismanagement and being subject to the prescriptions of the International Monetary Fund.
This has precipitated a disastrous collapse in the value of the national currency and a sharp decline in living standards in Iran, with most people struggling to make even basic ends meet.
To compound the grave situation facing the regime, its bankrupt foreign policy and standing in relation to its regional neighbours is also now in complete disarray. Iran is confronted by antagonism as a stark reality on all of the country's borders.
This includes major joint military exercises involving Azerbaijan, Turkey and Pakistan (stemming from Iran's ostensible support for Armenia in its conflict with the Republic of Azerbaijan); a continuously parlous relationship with its Gulf Arab neighbours; continued restiveness among its Kurdish and Baluchi national minorities; and the fallout from the current events in neighbouring Afghanistan.
Suffice to say that Iran now faces the proverbial perfect storm, and one of its own making.
In spite of continued calls from the international community, the Iranian regime's human rights record continues to be appalling.
A former UN environment consultant, Niloufar Bayani, has been imprisoned in Tehran since February 2018 and has been serving a 10-year prison sentence since February 2020, after a sham trial of her and seven of her fellow wildlife conservationist colleagues.
Her revelations of physical and psychological torture at the hands of her male interrogator, and international calls for her and her fellow detained wildlife conservationists' release, have been ignored by the Iranian government.
The imprisonment of Bayani and nine of her colleagues, including Iranian-Canadian conservationist Kavous Seyed-Emami, who died in January 2018 while held for interrogation in Tehran's Evin prison, has been internationally condemned by environmental and human rights-focused organisations including the UN and renowned primatologist Jane Goodall.
Earlier this month, around 30 members of the Iranian security forces raided the home of 26-year-old Sepideh Gholian, a journalist and labour rights activist.
She was forcibly removed from her home as other agents took away the mobile phones of every member of her family.
The reason for the brutal arrest was clear. Gholian, who was on furlough from the notorious Bushehr prison, had written a devastating exposé of conditions in the women's ward, calling it a "forgotten hell" in a Twitter thread that went viral and elicited reactions from many Iranians and civil society activists. Among the forms of torture included in her exposé was sexual abuse.
Gholian noted that women who did not have money were forced to perform sexual acts with guards or enter into "temporary marriages" with inmates in the men's ward.
She also noted how one Afghan woman, who had sought refuge in Iran with her child after the Taliban takeover, had ended up in the prison, where the guards called her child "the bastard."
Human rights activists in Britain will be familiar with the case of Nazanin Zaghari-Ratcliffe.
Having served a five-year sentence for allegations of spying and leading a "foreign-linked hostile network," Zaghari-Ratcliffe was given an additional year in prison followed by a year's travel ban, on charges of "spreading propaganda," effectively extending her punishment by two years.
Zaghari-Ratcliffe has spent the past year under house arrest, on parole at her parents' house in Tehran. It is understood that her appeal was rejected with no court hearing.
Codir has spent many years campaigning for the right to freedom of expression and an end to imprisonment on political grounds in Iran.
We have consistently pointed out that the courts, far from being an independent adjudicator, are part of the political machinery of the Islamic Republic.
The combination of international isolation and growing domestic pressure, including the active participation of social movements, now showing a degree of co-ordination, is bad news for the Iranian regime.
Women, workers, writers and artists and university students are once again calling for genuine change.
Opposition calls for a united front of left and progressive forces for peace and progress are growing. Such opposition currents resolutely oppose any foreign intervention in Iran and believe that the future of Iran can and should only be determined by the Iranian people themselves.
The prospects do not look good for theocracy in Iran. Solidarity from trade unions, peace activists and human rights groups in Britain can only help those in struggle in Iran.
We must continue to do all in our power to continue to give the Iranian people our support.
Jane Green is a national executive council member of the Committee for Defence of the Iranian People's Rights (Codir). For information on Codir and news of developments in Iran, please visit: www.codir.net or write to: codir_info@btinternet.com.