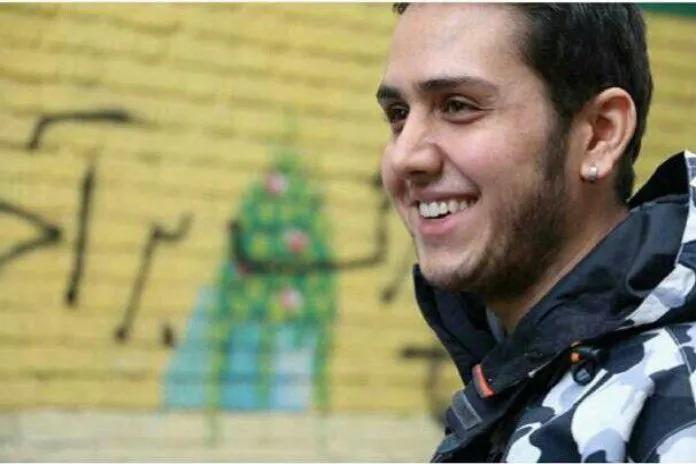 Student Activist Adel Gorji Arbitrarily Detained and Sent to Evin Prison for a Year!
On Wednesday 20 April 2022, Mr. Adel Gorji was arbitrarily summoned to appear at Iran's to Evin Prison, where he was then sent down for a one-year sentence behind bars. Mr. Gorji is a known student activist at the Faculty of Art and Architecture of Islamic Azad University, Central Tehran Branch.
Mr. Gorji's ordeal, with its drastic worsening last week, stands as a clear demonstration – if any were needed – of the dangers faced by those involved in expressing dissent or opposition to the dictatorship currently ruling Iran, as well as an ominous warning to anyone even slightly disposed to follow suit.
The sequence of events leading up to the imprisonment of Mr. Gorji last Wednesday began with his, at the time, seemingly innocuous participation in a gathering on 1 May 2019 to mark International Workers' Day. The participants at this event gathered in front of the Majlis (Parliament) building where they were then rounded upon by members of the regime's security forces. Dozens of them were arrested and dispatched to the Evin, Fashafooye, and Qarchak prisons – all notorious detention facilities with harsh conditions and appalling human rights records. In the case of Evin Prison, the arrestees were sent to Section 209, a ward presided over by the ministry of intelligence and intended for prisoners deemed by the regime to be 'national security threats'. Most of those arrested at the May Day gathering were released after a few days. However, for the rest, extensions were made to the arrest orders for a further week, ten days, or one month. This led to more protests both in Iran and internationally. In one incident, students who had organised a public meeting to protest the continuing detention orders were attacked by student members of the Basij (Mobilisation), a government-supported paramilitary organisation tasked with violently countering dissidents and opponents of the theocratic regime.
Almost four months later, on 29 August 2019, Mr. Gorji participated at a rally protesting the relocation of the faculty at which he is a student to another district of Tehran. Shortly after the protest, Mr. Gorji was arrested along with two other students by regime security forces. Ten days afterwards, he was released on a bond (surety agreement) pending the completion of legal proceedings against him. However, in the last court session, having been summoned to appear before Branch 7 of the Evin Courthouse, the release on bond was suddenly and arbitrarily changed to release on bail for an amount neither he nor his family had a hope of paying and he was thus remanded to custody in Evin Prison. He was only released a week later having frantically managed to stump-up the required bail of 200 million tomans, roughly equating to 7200 US dollars – an extortionate sum of money for an average working-class Iranian family.
On the 11 February 2020, Mr. Gorji faced two other charges filed against him, one by the Sarallah Organisation – a branch of the Islamic Revolutionary Guard Corps (IRGC) – and the other by the Prisons Organisation.
Two and a half months later, on the eve of 1 May 2020, Mr. Gorji was again arrested for participating in a gathering to mark International Workers' Day. He was released on bond after five days.
The following month, Mr. Gorji was sentenced to a four-month term of imprisonment. However, this decision was promptly protested by the office of the First Deputy Prosecutor as being too lenient and, on 29 June 2020, his sentence was increased to one-year in prison on the charge of "assembly and collusion to act against national security". He was additionally sentenced to three months of unpaid work at the Education Assistant Department of the Islamic Azad University as well as a two-year ban on all political activities and membership of political parties.
Having been summoned once more before the prosecutor's office last Wednesday, Mr. Gorji was suddenly dispatched to Evin Prison to serve the outstanding one-year sentence of imprisonment.
CODIR repeats its urgent call for solidarity with all those unjustly imprisoned by the theocratic regime in Iran and demands their immediate and unconditional release from custody. Let us resolve to make sure that Adel Gorji is freed from his incarceration before Sunday 1 May so that he can re-join his family and loved ones, as well as exercise his perfectly legitimate right to re-join all those demonstrating in Iran for peace, justice, and human and democratic rights.
Please demonstrate your support for our campaign by urgently writing to the Iranian Embassy in London and making clear your protest at the treatment of Adel Gorji, as well as the fate of political prisoners and prisoners of conscience in the Islamic Republic of Iran.
Email: iranemb.lon@mfa.gov.ir
Please keep CODIR informed regarding any such correspondences and actions you take, and we will publicise these accordingly.