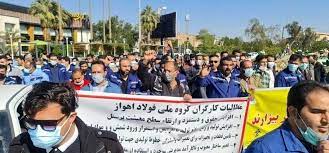 Recent reports received by CODIR from Iran indicate that the current wave of industrial action throughout the country has significantly expanded in the past few days with the participation of workers in heavy industries.
The Union of Metalworkers and Mechanics of Iran (UMMI), an affiliate of the IndustriALL Global union confederation, reported on 3 August that a new round of strike action has been launched to by 'montage' (assembly component) workers across several manufacturing companies. The workers are campaigning for fair wages and salaries, job security, and safe working conditions.
CODIR has also been closely following the industrial action taken by workers of the National Steel Industrial Group (Ahvaz Steel), who gathered on the streets of Ahvaz, in front of the Khuzestan Governorate building, for the eighth consecutive day on Tuesday 2 August.
The central demands of these workers are for an immediate resumption in production at the plant; a swift implementation of the job classification scheme; and payment of the recognised supplement for arduous work. Instead of responding to these legitimate and reasonable demands by the workers, the company's management (itself appointed by the National Bank) has resorted to banning seven prominent protesting workers from entering the company as 'personas non grata' and cancelling the right to an overtime work allowance for all protesting workers.
The general director of the provincial labour department (in Khuzestan) has also explicitly threatened the workers that for as long as they remain unwilling to form an Islamic Labour Council (a pro-regime pseudo trade union structure) in the factory, he will refuse to address any of their demands or issues. The workers, who consider the Islamic Labour Councils to be anti-labour and "informer set-ups" [to spy on worker activists], have repeatedly frustrated the efforts of both the labour department and the employer to coerce them into establishing their own chapter of an Islamic Labour Council over the last two years.
At the end of their rally on Tuesday, the Ahvaz Steel workers re-emphasised their demand for production at the company to be re-started, implementation of the job classification scheme, payment of the bad weather supplement, restoration of transportation cards, as well as the restoration of 20 hours' overtime for the protesting workers.
CODIR is calling for a renewed and strengthened solidarity with the striking workers in Iran. For more information, please visit: www.codir.net