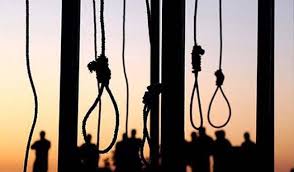 According to confirmed reports from Iran, at least 20 Sunni prisoners were executed by hanging in prisons of the Islamic Republic of Iran, all of whom were charged with membership or cooperation with "Tohid and Jihad" group. These prisoners were arrested about 8 years ago. Jahangir Dehghani, Jamshid Dehghani, Kamal Moulayi and Hamed Ahmadi were four prisoners that had a chance to publish what their case was made of and what they were accused of. HRANA, an Iranian human rights news agency had published this video in 2013.
According to the report of Human Rights Activists News Agency (HRANA), on August 4, the Intelligence Ministry published a statement about the case that is known as Tohid and Jihad and by giving some explanations accused them to be involved in terrorist activities. The ministry stated that the number of arrested members of this group is more than 100.
This statement is published in the midst of execution of at least 20 Sunni prisoners. The Judiciary is claiming that the judicial process of theses have been fair and legal.
This group of 20 people was not the first group who were executed, and previously other alleged 'criminals' with the same charges were hanged.
Human Rights Watch (HRW) condemned Iran for what it said was the "mass execution of at least 10 prisoners".
Rights groups have been critical of Iran's use of the death penalty, and according to Amnesty Interntional, the country executed at least 977 people in 2015.
CODIR has strongly condemned the authorities of the Islamic Republic of Iran for this inhuman act of executing so many political prisoners.  CODIR is totally opposed to death penalty under any condition and for any offence.