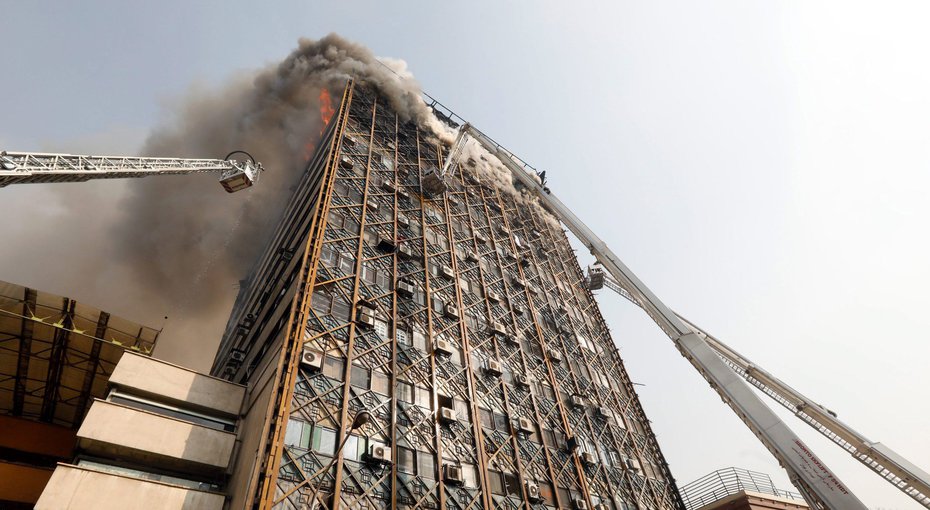 Firefighters in Tehran are receiving messages of support from around the world following yesterday's catastrophic fire at the famous Plasco building in downtown Tehran, which collapsed killing at least 30 firefighters and an unknown number of other people inside.
In the United Kingdom, the London Fire Brigade has voiced its support, as did the Fire Brigades Union, which represents the majority of British firefighters.
A day after the disaster, the events in Tehran are still on the mind of Dave Green, the union's national officer and a former firefighter.
"This is something every firefighter thinks about and dreads." Green says. "I saw the pictures from Tehran, and it was absolutely appalling to watch. Who would have foreseen that a fire in a high-rise building, which is not uncommon, would cause a catastrophic collapse like that? My heartfelt sympathy goes out."
And firefighters in Britain, he says, are ready to offer their Iranian counterparts support. "There is a brotherhood or sisterhood of firefighters across the world, and we feel a sense of loss because, but for the grace of any God, it can happen to any of us. We have been in touch with the limited amount of contacts we've got over there, trying to ascertain if there is any way we can help."
Many firefighters in Tehran are grieving the loss of colleagues, and families their loved ones.
After such a disaster, thoughts turn to supporting the survivors.
While firefighters understand they have dangerous job, Green says, they can often find themselves feeling very alone after a traumatic incident.
"You go home to a family with all those pressures, and you try to box it in and remove yourself from the experience," he says. "That has different effects on different people. If you don't talk about it, it can build up and be quite difficult to deal with, and if you do talk about it, you are upsetting the people around you."
In Britain, he says, it's up to the firefighter's employer to provide support. "I'll be frank. It can be patchy," he says. "Certainly in my time as a firefighter in Nottingham, if we were ever faced with disturbing events — I never witnessed the death of a fellow firefighter, but I certainly witnessed a lot of horrendous things that no one should have to witness — you were given the facility to talk about it and to take time off to deal with it."
Often, he says, what helped the most was to talk to other firefighters or people who understand the profession.
And in the United Kingdom, he says, attitudes toward firefighters' mental health have changed in recent years.
"There is a greater recognition that mental ill health can manifest itself in a lot of ways, and that just because you are in a dangerous profession or a male-oriented profession, that doesn't mean that you don't suffer," he says.
Research, Green says, shows that firefighters suffer from mental illness more than the general population. "We have found that firefighters suffer more from post-traumatic stress disorder (PTSD) than the normal population. The number of suicides amongst firefighters in the UK is disturbingly high as well."
What is most important, he says, is not to ignore the problem. "If we do recognize it and we can address it, it helps the person recover and it also helps the organization because people come back to work better and quicker," he says.
And then there is the question of how to support families that have lost a firefighter in the family. "When this happens to people in the union, we offer a support package which includes financial recompense for those firefighters who have been killed, which is not insignificant, but you can never, obviously, repay the loss of a life."
It is also important, he says, that relatives should feel like they remain part of a wider community. "We try and keep contact with them afterwards, and make sure they feel part of the fire service family," he says. "They often like to feel associated with the fire service because that's where their loved one lost their life."
And recently, the union has set up a lottery to raise funds for bereaved families. "The lottery raises money to pay for memorials, and to pay for bursaries for the loved ones of firefighters who have been killed so they can get a decent education. Other firefighters are taking part in it because they know that the money is going to a good cause."
And while Tehran may seem a world away from the United Kingdom that sense of the firefighters' brotherhood reaches across borders and cultures. In his official statement on behalf of the Fire Brigades Union on January 19, Green wrote:
We were extremely saddened to hear today that as many as 30 firefighters are feared dead following the collapse of the 17-storey     Plasco building in Tehran.  Our hearts go out to the families of these brave men, and to their devastated colleagues.  They were trying to save lives when their own were, it is feared, taken from them tragically.  Firefighters go into burning buildings when needed, without a thought for their own safety.  Sadly these Tehran firefighters have today paid the price with their own lives.
To find out more about the lottery set up to support firefighters' families, and to donate, please click here.