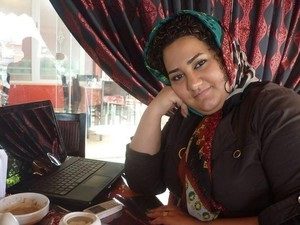 Following 31 days of hunger strike in Tehran's Evin prison, Iranian human rights defender Atena Daemi is in poor health, and requires immediate hospitalization. She has been unjustly imprisoned for her human rights activities since November 2016.
On 8 April, Iranian human rights defender Atena Daemi started a hunger strike in Evin prison in protest at the suspended prison sentences imposed on her sisters Hanieh and Ensieh for "insulting public officers on duty". Both were sentenced to suspended prison terms of three months and one day by a criminal court in Tehran on 13 March. According to her family, Atena's health has seriously deteriorated. She is believed to have lost about 12 kg of her weight. She is suffering from sustained nausea, vomiting, blood pressure fluctuations, and severe kidney pain. She briefly lost consciousness on 2 May. She was briefly transferred to a hospital outside prison on 8 May where some medical tests were carried out but she was returned to prison before even the test results came in. Doctors have warned that her kidney infection has reached critical levels and she needs immediate hospitalization.
Prison officials are failing to provide her with adequate medical care. On 29 April, Atena Daemi told her family that prison medical doctors keep writing in their reports that her health is normal and that she is "faking" her illness. In late April, she was transferred to the prison medical clinic to receive an electrocardiogram (ECG) test but the nurse, who was a male, refused to administer the test. The "justification" was that it is "inappropriate" for male medical staff to carry out these tests as patients are required to remove garments covering their chests. Women political prisoners often face additional layers of gender-specific discrimination when seeking access to medical care. On several occasions, women prisoners, who have experienced heart problems in the evening or at night, have been denied emergency ECG tests because the prison authorities have insisted that these tests must be carried out by female staff as patients are required to remove garments covering their chests.
Atena Daemi and her sisters' lawyer is awaiting the Court of Appeals' review of the convictions and sentences issued against them. The lawyer is concerned that the appeal may be rejected. Amnesty International considers that the trial that led to their convictions was unfair and that Hanieh and Ensieh Daemi would be prisoners of conscience if imprisoned, targeted simply on the basis of their family relationship with Atena Daemi.
Please write immediately in English, Persian or your own language urging the Iranian authorities to:
Release Atena Daemi immediately and unconditionally, as she is a prisoner of conscience targeted solely for peacefully exercising her rights to freedom of expression, association and assembly;
Ensure, pending her release, that she has access to a qualified health professional who can provide health care in compliance with medical ethics, including the principles of confidentiality, autonomy and informed consent;
Quash the convictions and sentences of Hanieh and Ensieh Daemi, which were issued after an unfair trial;
Investigate Atena Daemi's allegations of torture or other ill-treatment, including being subjected to violence during her November 2016 arrest, and ensure that those responsible are brought to justice in fair trials.
PLEASE SEND APPEALS BEFORE 20 JUNE 2017 TO:
Head of the Judiciary
Ayatollah Sadegh Larijani
c/o Public Relations Office
Number 4, Deadend of 1 Azizi
Above Pasteur Intersection
Vali Asr Street, Tehran, Iran
Salutation: Your Excellency
Office of the Supreme Leader
Permanent Mission of the Islamic Republic of Iran to the United Nations
622 Third Avenue, 34th Floor
New York, NY 10017
Fax: (212) 867-7086  I  Phone: (212) 687-2020  I  Email: iran@un.int
Ayatollah Sayed 'Ali Khamenei
Salutation: Your Excellency
2) LET US KNOW YOU TOOK ACTION
Click here to let us know if you took action on this case! This is Urgent Action 127.15
Here's why it is so important to report your actions: we record the actions taken on each case—letters, emails, calls and tweets—and use that information in our advocacy.