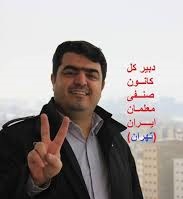 30th May 2017
Press Release
For Immediate Use
Solidarity organisation, the Committee for the Defence of the Iranian People's Rights (CODIR), has expressed concern for jailed trade unionist,Esmail Abdi, whose health has deteriorated following a hunger strike he started on 30th April, in protest at the criminalisation of peaceful trade unionists. He is a prisoner of conscience serving a six-year sentence in Tehran's Evin prison.
Abdi, the General Secretary of the Iran Teachers Trade Association (ITTA), was taken into custody on 27th June 2015 after he had been prevented from travelling to Armenia to obtain a travel visa to Canada.  Abdi had been invited to Canada to speak at an international conference, representing the ITTA, but instead found himself transferred to solitary confinement in Tehran's notorious Evin Prison, run by the Revolutionary Guards.
Abdi had already been detained several times and had been given a suspended sentenced of ten years imprisonment, following a 2011 conviction on trumped up national security charges, related to his peaceful trade union activities.
During the teachers' protests in April 2015, he was threatened with the suspended sentence being implemented if he did not resign from his union position.  His resignation was rejected by the Executive board of the ITTA.  Abdi may face a total of 16 years imprisonment if this additional sentence is enforced.
CODIR has stressed that the detention of Esmail Abdi contravenes all laws of natural justice and his treatment gives him little chance of a fair trial.  In October 2015, there was still no information about the charges brought against him.  As his file is considered a "national security" case, his lawyer is not recognised by the judiciary and only lawyers selected by the Government can represent him.
Abdi's health condition is known to be critical and he requires medical attention outside of the prison. Although prison doctors believe Abdi must be referred to specialist hospitals, and have relayed their opinion to the higher authorities, the head of Evin prison's medical services has not yet responded to their requests.
"The treatment of Esmail Abdi is typical of the way the Iranian regime deals with dissent," said CODIR Assistant General Secretary, Jamshid Ahmadi.  "Therecent re-election of President Hassan Rouhani was greeted by many in the West as the return of a moderate.  The fate of trade unionists such as Esmail Abdi however shows just how far the reform process in Iran has travelled, no distance at all.  Imprisonment for legitimate trade union activity is not a hallmark of democracy and we urge trade unionists across the world to protest to President Rouhani in the strongest terms."
CODIR has stressed that the injustice meted out to Esmail Abdi, and the fate of a great number of other imprisoned trade unionists in Iran, directly contradicts the claims of President Rouhani to be leading a government committed to reform.  In practice, it is the exact opposite.
CODIR, which has campaigned for over 30 years to highlight trade union and human rights abuses in Iran, will continue to support the rights of the Iranian people and highlight injustice.
ENDS
Note for Editors
Contact Information:-
Postal Address:
B.M.CODIR
London
WC1N 3XX
UK
Website: www.codir.net
E-mail: codir_info@btinternet.com
Further information for Editors
CODIR is the Committee for the Defence of the Iranian People's Rights.  It has been established since 1981 and has consistently campaigned to expose human rights abuses in the Islamic Republic of Iran.
CODIR has worked closely with the trade union movement in the UK, the peace movement, all major political parties and Amnesty International to press the case for an end to torture in Iran's prisons.
CODIR has published Iran Today, its quarterly journal, since 1981, explaining the latest developments in Iran and the most effective way that the British public opinion could demonstrate its solidarity with the people of Iran.
In recent years CODIR has worked closely with Stop the War Coalition and has been vocal against any form of foreign intervention in the internal affairs of the nation.