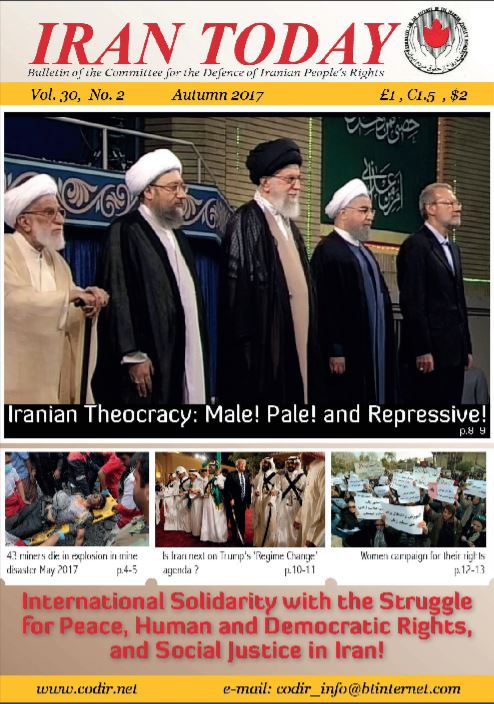 Table of contents:
NEU declares solidarity with Iranian teachers                                                                          Page 2
Editorial:  Iran – Illusion and Reality                                                                                           Page 3
Interview with Kemal Ozkan, Assistant General Secretary, IndustriALL Global Union   Page 4-5
Theocracy presides over an impoverished nation                                                                      Page 6
Kurdistan, Iran – the Clouds of Conflict are Gathering!                                                            Page 7
Rouhani – A safe pair of hands?                                                           Page 8-9
Is Iran next on Trump's 'Regime Change' agenda?                          Page 1-11
UNISON supports the campaign for human and democratic trade union rights    Page 11
Iranian women confront the regime's policies                                   Page 12-13
CODIR Calls for the Immediate Release of Reza Shahabi!              Page 14
UNITE stands in solidarity with the campaign for trade union rights in Iran           Page 15
NASUWT campaigns for the release of Esmail Abdi, Iranian teachers' leader       Page 16
For full-colour hard copies of this bulletin, please contact CODIR directly.