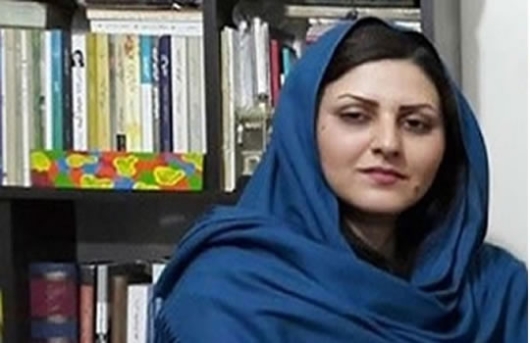 8th April 2018
Press release
For immediate use
The Committee for the Defence of the Iranian People's Rights (CODIR) has called for the immediate release of hunger striking human rights activists unjustly held in Iranian prisons.
Following their arrest without warrant in September 2014, the home of husband and wife, Arash Sadeghi and Golrokh Ebrahimi Iraee, was searched by Iranian Revolutionary Guards.  During the search the guards discovered an unpublished story, written by Ms. Ebrahimi, about a young woman who burns a copy of the Qur'an after watching the film The Stoning of Soraya M, a true story about the stoning to death of a woman for adultery.
After two brief court sessions with no legal representation Ms Ebrahimi was sentenced to six years imprisonment.  Ms Ebrahimi has suffered extensive interrogation and has been told she could be executed for "insulting Islam."
Arash Sadeghi, is serving a 15-year sentence after he was arrested for his human rights activities and convicted of the standard Iranian regime allegations of "spreading propaganda against the system", "gathering and colluding against national security" and "insulting the founder of the Islamic Republic."
Since 3rd February this year Ms Ebrahimi has been on hunger strike in protest at her unlawful move from Evin Prison in Tehran to Qarchak women Prison near Varamin, in East  of Tehran.  Qarchak Prison is known as the worst prison in Iran due to its poor facilities and the inhumane medical and psychological conditions
United Nations human rights experts have called for the release of Ms. Ebrahimi along with access to appropriate medical treatment following being beaten in prison.
The UN experts cited the case of Ms Ebrahimi, amongst others, as being,
"…illustrative of a continuing pattern of harassment, intimidation and imprisonment of those undertaking peaceful and legitimate activities in the defence of human rights and prisoners of conscience, often through using vaguely worded or overly broad national security-related charges."
Since her hunger strike Ms Ebrahimi has lost 20 kg in weight and is suffering from kidney dysfunction as well as swelling of her legs.
International concerns have also been raised about the state of the prison to which Ms Ebrahimi has been transferred.  The prison is a disused chicken farm that holds several hundred women convicted of violent offences in overcrowded and unhygienic conditions.  They have no access to safe drinkable water, decent food, medicine and fresh air. Reports from the facility indicate high levels of assault towards inmates both by other inmates and prison staff, as well as rampant drug use and infectious diseases.
The hunger strike also includes human rights activist Atena Daemi, as well as Ms Ebrahimi's husband Arash Sadeghi, who is demanding the return of his wife and Atena Daemi to Evin prison, pending their release.
CODIR Assistant General Secretary, Jamshid Ahmadi, condemned the continued imprisonment of the activists stating,
"This is yet another example of the Iranian regime attempting to silence those who show any form of dissent or raise an independent voice against the brutality of the regime governing .  The basis of the arrests of Golrokh Ebrahimi, Atena Daemi and Arash Sadeghi is questionable in the first place but to hold Golrokh and Atena in such conditions is deplorable", said Mr Ahmadi.  "They must be immediately and unconditionally released.  The human rights record of the Iranian regime must be investigated as requested by the experts from the United Nations."
CODIR will continue to work with the trade union and labour movement in the UK to highlight the plight of those unjustly imprisoned for trade union and human rights activity in Iran.
ENDS
Contact Information for CODIR:-
Postal Address:
B.M.CODIR
London
WC1N 3XX
UK
Website: www.codir.net
E-mail: codir_info@btinternet.com
Further information on CODIR
CODIR is the Committee for the Defence of the Iranian People's Rights.  It has been established since 1981 and has consistently campaigned to expose human rights abuses in the Islamic Republic of Iran.
CODIR has worked closely with the trade union movement in the UK, the peace movement, all major political parties and Amnesty International to press the case for an end to torture in Iran's prisons.
CODIR has published Iran Today, its quarterly journal, since 1981, explaining the latest developments in Iran and the most effective way that the British public opinion could demonstrate its solidarity with the people of Iran.