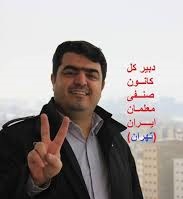 Jailed Iranian teachers' leader Esmail Abdi has gone on hunger strike in protest at his continuing unlawful detention and the "massive violations of civil rights of teachers and workers in Iran".
Mr Abdi, of the Trade Association of Teachers in Tehran, was awarded the NASUWT International Solidarity Award 2018.
He is incarcerated in the notorious Evin Prison after being sentenced to a six-year jail sentence in 2016.
He has committed no crime and the convictions are based solely on his legitimate union work, including organising peaceful demonstrations in protest against poor wages, the inadequate education budget, and the imprisonment of teacher trade unionists. He was also charged with associating with Education International, the global union for teachers.
In a statement Mr Abdi said: "Unfortunately, despite the continued monitoring of developments in Iran by human rights' and international organizations such as Amnesty International, International labour Organization (ILO), Education International (EI), the wave of repression has actually increased and now extended directly to presence of security forces in schools and factories.
"Hereby I declare my solidarity with all the teachers and workers of the world, and as a teacher and a Board member of the legally established Trade Association of Teachers in Tehran, with its certification issued from the Ministry of Interior, warn all about the ominous and grim consequences of an instrumental and selective approach to law enforcement by the judiciary.
"Some of those in charge are putting pressure on the judicial system and interfering with indictments and sentences, rejecting requests for reconsideration at Supreme Court, and blocking leave of absence for prisoners and acting above the law, which also unfortunately means that they are controlling judges, prosecutors and judicial agents.
"In protesting against the massive violations of civil rights of teachers and workers in Iran, and in demanding an open trial and lawful treatment of my case, and entitlement to my leave of absence according to article 520 of the Penal Code, and medical leave of absence (which is now currently illegally blocked), on Tuesday, 17th of April 2018 I shall commence my hunger strike. Any consequence or ramification of this hunger strike is the sole responsibility of the Judiciary."
The NASUWT is seeking to quash Esmail Adbi's conviction and call upon the Iranian authorities to allow trade unionists to carry out their legitimate activities defending workers' rights without fear of harassment or imprisonment.
Your email can make a difference!