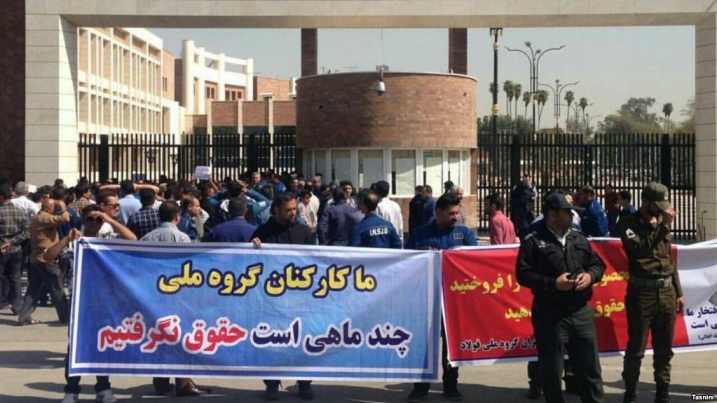 15.06.2018
Iranian security forces arrested and imprisoned dozens of workers on 12 June who were protesting against months of unpaid wages.
The police and security forces attacked the workers from the National Iranian Steel Industrial Company in Ahvaz city after they began a protest rally in the city's Kian Pars square, beating and detaining around 60 of them.
Workers have been on a strike for 17 days over the failure by management to pay their salaries for  several months and the non-payment of social security contributions, which means workers can't receive healthcare for themselves or their families.
According to IndustriALL Global Union affiliate, the Union of Metalworkers and Mechanics of Iran (UMMI), 46 workers were released on bail on the evening of 13 June following widespread protests against the arrests and the continued detention of workers.
However, the Revolutionary Court in Ahvaz has refused to accept bail for a number of workers including Karim Siyahi, Mohammad Ali Jamaati, Mohammad Falahi and Javad Eskandari, on the pretext of prosecutions being sought by private plaintiffs in relation to the breaking of windows at the offices of MPs during the original protests in the city.
Protests against continually delayed payment of wages – and the severe financial stress this has placing upon workers and their families – began in December 2017, and since then negotiations have been ongoing for the payment of wage arrears, as well as ensuring that the employers would pay an end of year bonus (due on 21 March to coincide with the Iranian New Year) and meet their contribution towards national insurance.
In early March, some of the workers were paid either in full or part of the wages owed to them – though this did not cover all of the workers.  And, the pattern of postponed or at most partial payment of wages, as well as the situation regarding the outstanding social security payment on the part of the employer, has continued.
In October 2017, the Iranian National Bank sold the steel complex to Iranian tycoon, Abdolreza Mousavi, in a bid to recover its debts. The company, which employs 4,000 workers, has been badly mismanaged and is operating at a fraction of its capacity. Workers report that equipment and machinery has been sold off. Last month, ownership was reportedly transferred back to the National Bank but workers say Mousavi is still turning up at the plant, and ownership isn't clear.
A spokesperson for UMMI says:
"The UMMI calls for the immediate and unconditional release of all the protesting steel workers that remain in detention. They are innocent of any crime and have done nothing to deserve the depriving of their liberty.  Furthermore, we call on the officials and management at the company to engage with the independent trade unions representing the demands of the workers, so that the dispute can be properly and swiftly resolved.  The UMMI also condemns the arrest, imprisonment, maltreatment and torture of workers pursuing their just demands for the payment of their wages."
IndustriALL's assistant general secretary, Kemal Özkan, says:
"We call on the Iranian government to urgently intervene and resolve the dire situation at the National Iranian Steel Company. Workers are desperate and their families are starving. We demand the release of all imprisoned workers and that Iran respects ILO conventions 87 and 98 guaranteeing the rights of workers to exercise their rights to engage in legitimate trade union activities and collective bargaining."