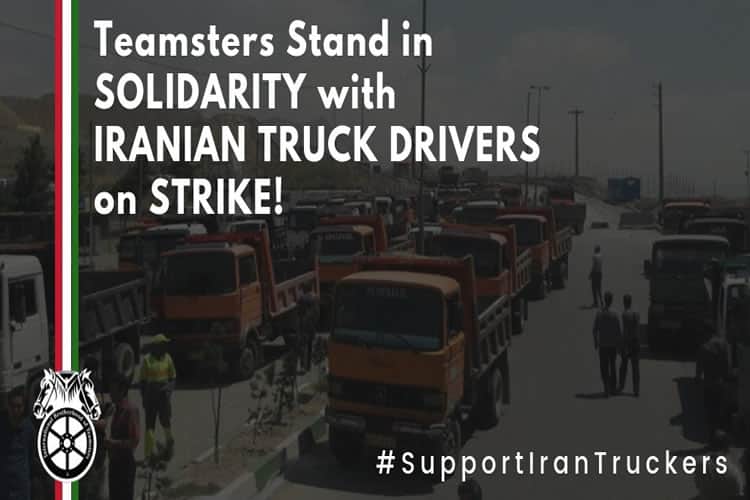 The International Brotherhood of Teamsters, "North America's strongest and most diverse labor union" with 1.4 million members in the US and Canada, supported Iran's truckers in a letter to the Deputy Director of Iran's interests in the US, Abolfazl Mehrabadi.
The Letter, which was posted in a tweet by Teamsters, was written by General President, James P. Hoffa. Teamsters also published a press release on its website detailing its support.
The letter reads:
"Dear Deputy Director Mehrabadi,
Last May I wrote to you expressing our concern for the conditions of truck drivers in Iran. These drivers have advised us of low pay, increasing operating costs and road usage fees and a refusal by your government to recognize the rights of these workers to form trade unions of their choosing. We have now learned that for many drivers the situation since May has only gotten worse.
Beginning on September 22, 2018, Iranian truck drivers in more than 290 Iranian cities and 31 states are on an expanded strike to urge the Iranian Authorities to meet their basic demands. The strike is also the result of Iranian truck drivers having no voice in the decisions that impact their livelihoods.
The International Brotherhood of Teamsters, representing 1.4 million transportation and supply chain workers in the United States and Canada stands in solidarity with our Iranian brothers and sisters.
We urge the government of Iran to listen to the grievance of striking Iranian truck drivers, address their just demands and recognize their internationally recognized rights to assembly, speech, freedom of association and collective bargaining."
This is the second time that Teamsters has voiced its support for Iran's striking truck drivers. The first time was in May during the first round of strikes.