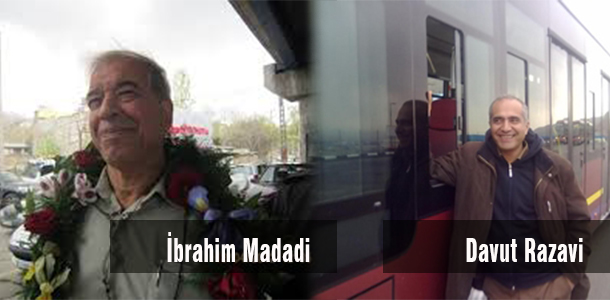 Two leading trade union activists in Tehran have been received 5-year prison sentences for engaging in legitimate, legal and peaceful trade union activities.
Ebrahim Madadi, deputy chairman of the Syndica-e Vahed (Syndicate of Workers of Tehran and Suburbs Vahed Bus Company), lost an appeal against the five-year, three-month prison sentence he received in October for engaging in peaceful trade union activism. The 60-year-old, who suffers from a number of health problems, had been convicted on charges of "assembly and collusion against national security".
One of the activities listed in Madadi's indictment was his giving out of biscuits to fellow bus drivers to celebrate May Day, International Workers Day. Further reference was made by the sentencing court to his having negotiated with the Ministry of Labour and Social Security over the raising of the minimum wage for bus drivers.
Davoud Razavi, Madadi's colleague and fellow member of the Executive Council of the Syndica-e Vahed, is currently awaiting the outcome of his own appeal against the 5-year sentence he was issued on the same charges.
Trade union activism is seen as an offence against national security in Iran. Independent trade unions and their associated activities are proscribed by the authorities in Iran and those brave enough to flout this ban and partake in industrial action risk summary dismissal from their jobs and the unwanted attention of the country's intelligence agency and security forces. Trade union activists and leaders are continually pursued and prosecuted under all-encompassing charges relating to national security, sentenced to draconian prison terms during which torture, mistreatment and the denial of medical care are commonplace.
Madadi had previously served a three-and-a-half-year sentence in Tehran's notorious Evin Prison for engaging in peaceful trade union activities and was released in April 2012.
Madadi was rearrested by agents from the Intelligence Ministry rearrested Madadi in April 2015, along with Razavi.
"My clients (Madadi and Razavi) did not commit any act against national security," stated the pair's lawyer, Mr. Mohammad Saleh Nikbakht, in a post on Telegram on 30 October.
"Mr. Madadi is over 60 years of age and suffers from diabetes, an enlarged prostate, and hearing issues," Nikbakht added. "Enforcing his sentence would clearly cause him a lot of problems.
Mr. Razavi had been talking with the Tehran municipality and city council members concerning bus union cooperatives. The discussions were in no way confrontational and yet he was charged with '[assembly and] collusion against national security.'
Mr. Razavi has no previous arrest record and he, as well as Mr. Madadi, have always made it a priority to observe the country's laws and pursue their demands only through legal means."
5 November 2018