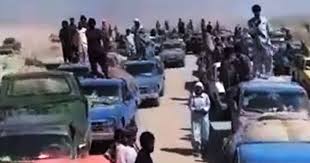 2 March 2021
PRESS RELEASE
Iran's Revolutionary Guards unlawfully used lethal force against unarmed fuel porters near the city of Saravan, in Sistan and Baluchestan province, on 22 February, flagrantly violating the absolute prohibition on the arbitrary deprivation of the right to life under international law, said Amnesty International today.
Testimony from eyewitnesses and victims' families, coupled with video footage geolocated and verified by the organization's Crisis Evidence Lab, confirms that on that day, Revolutionary Guards, stationed at Shamsar military base, used live ammunition against a group of unarmed fuel porters from Iran's impoverished Baluchi minority causing several deaths and injuries.
"By opening fire on a group of unarmed people, Iranian security forces have displayed a callous disregard for human life. There must be urgent, independent criminal investigations into these unlawful killings, in line with international law and standards. Anyone against whom there is sufficient admissible evidence must be prosecuted in a fair trial, without resorting to the death penalty," said Diana Eltahawy, Deputy Director for the Middle East and North Africa at Amnesty International.
At least 10 people, including a 17-year-old boy, were killed on 22 February, according to Baluchi human rights activists who interviewed primary sources.
In a media interview on 23 February, the deputy governor of Sistan and Baluchestan province, Mohamad Hadi Marashi, said that the security forces stationed at Shamsar base "were forced to resort to shooting" because their "honour" was at risk due to fuel porters' "attempts to enter the base", stone-throwing and other "destructive action," inadvertently confirming that there was no imminent threat to life.
"The official justification the Iranian authorities have given for their deadly use of live ammunition reflects their complete disregard for international standards on the use of firearms. It also shows a shameless contempt for their obligations to respect and preserve human life and to ensure that public officials do not carry out extrajudicial executions by illegal use of firearms," said Diana Eltahawy.
Under international law, firearms should only be used to defend against the imminent threat of death or serious injury and intentional lethal use of firearms is only justified when strictly unavoidable to protect life. It is unlawful to use lethal force to defend property, prevent entry into a military base, or in response to stone-throwing when there is no threat to life or serious injury.
On 26 February, following a public outcry, the Military Prosecutor of Sistan and Baluchestan province announced that a criminal case had been opened into the "accidents that occurred" on 22 February. Under international human rights law and standards, the jurisdiction of military courts must be restricted to breaches of military discipline by military personnel, to the exclusion of human rights violations.
Furthermore, due to the lack of an independent judiciary in the country, which has resulted in an appalling track record of impunity, Amnesty International has serious concerns about the compliance of this investigation with international law and standards.
A relative of one victim who was killed and another who was injured told Amnesty International that intelligence and security officials had not allowed his family to examine the body of their loved one or secure an independent autopsy and pressured them to have the body buried immediately. He also said that at the hospital his injured relative, other members of his family and other victims' families were asked by intelligence and security officials to sign statements saying the Revolutionary Guards were not responsible for the deaths and injuries.
Evidence of unlawful use of lethal force
Verified video footage, testimony from eyewitnesses and victims' relatives, as well as credible information gathered from human rights defenders, and official statements, confirm that the fuel porters were unarmed and posed no serious threat. It is, therefore, clear that the Revolutionary Guards' use of lethal force against them on 22 February was unlawful.
Days earlier, on 20 February, Revolutionary Guards stationed at Shamsar base blocked a road leading to the city of Saravan with metal chains, without explanation. This left scores of fuel porters, who regularly travel between Iran and Pakistan to sell fuel for meagre sums, stranded near the border on the Iranian side, with little food and water.
Amnesty International reviewed and cross-checked the accounts of six individuals relating to the events. They included three eyewitnesses, a relative of two victims (one was killed and the other injured); and two local human rights defenders who had interviewed three further eyewitnesses. According to these accounts, after 48 hours of failed negotiations, on 22 February, a group of fuel porters unblocked the road by breaking the metal chains and attempted to drive their vehicles through the barrier. In response, the Revolutionary Guards first fired warning shots into the air. Witnesses said that when the drivers did not retreat, and moved towards the barrier, the Revolutionary Guards fired live ammunition at them, killing and injuring multiple drivers.
An eyewitness in an audio-recorded testimony obtained by Amnesty International said: "We begged the Revolutionary Guards to open the road, but they made false promises and kept us waiting. People felt pushed to break the metal barrier themselves, and when doing so, the Revolutionary Guards began shooting at them. The drivers of five or six cars who were passing through were shot dead. After seeing this scene, other fuel porters began screaming and yelling and the Revolutionary Guards fired towards them as well, leaving many dead or injured."
On 24 February, Balochistan News Channel (BNC) aired a video clip in which an injured fuel porter, being treated at a medical facility in Pakistan, described how the Revolutionary Guards opened fire at the drivers who attempted to drive through: "The driver of a car in front of me was hit by a bullet. There were about 35 to 40 people who were hit by bullets… We were only there trying to make a living."
Amnesty International was able to speak to a relative of two victims who were shot while in their cars. One was killed at the scene after sustaining multiple gunshot wounds in his legs; another was shot in his abdomen and is currently in a critical condition. The relative said that eight of his cousins, who were also present at the scene, all reported that the Revolutionary Guards had deliberately aimed their fire at the drivers who attempted to pass through the barrier.
The accounts are supported by video footage showing the inside of a car covered in bloodstains. In the clip, the person filming is heard saying that five drivers were shot dead. Amnesty International also obtained verified video footage showing two victims lying on the ground, bleeding from wounds in their legs. One of the victims is seen lying on the ground motionless with his eyes wide open.
"When security forces wilfully and unlawfully use firearms against unarmed people, they either intend to kill or do not care whether their actions are likely to cause death. In either case, under international law, the killings resulting from their unlawful actions are considered not accidental, but deliberate, and should, therefore, be investigated as extrajudicial executions," said Diana Eltahawy.
Eyewitness accounts, as well as verified video footage, indicate that following the deadly shootings described above, many fuel porters raised their voice in anger, with some chanting "Down with the Revolutionary Guards". Human rights defenders interviewed by Amnesty International said that a number of fuel porters also moved towards Shamsar base, throwing stones. This time, the Revolutionary Guards responded with reckless fire.
These accounts are consistent with verified video footage, reviewed by an Amnesty International weapons expert, which shows multiple guards on the hills inside Shamsar base recklessly firing semi-automatic rifles near a crowd of unarmed people, who are seen running away and seeking shelter in trenches.
Iranian authorities have refused to disclose the real number of deaths. Top provincial officials have only acknowledged three deaths, and attempted to attribute responsibility to Pakistan's border guards, which both Pakistani officials and fuel porters present at the scene have denied.
Given the systematic impunity prevailing in Iran for serious human rights violations and other crimes under international law, Amnesty International urges members of the international community to push for truth and justice for the grave violations of the right to life committed by Iran's security forces on 22 February.
Background
Iranian security forces also used unlawful and excessive force, including live ammunition, pointed metal pellets, and tear gas, against men, women and children protesting the deaths of their loved ones and bystanders during protests which erupted across Sistan and Baluchestan province between 23 and 25 February in response to the 22 February killings. According to Baluchi human rights defenders, at least two, including a child, were shot dead on 24 February during the protests. The authorities also announced the death of one law enforcement official during the protests.
Fuel porters, called "Soukhtbar" in Persian, generally live in extreme poverty in Sistan and Baluchestan province. They try to earn a living by selling fuel in border villages in Pakistan. While some have an official license to transport fuel, the vast majority do so irregularly through peripheral border routes and report that they are asked to pay regular bribes to Revolutionary Guards officials who control the border crossings.
Every year, Iranian security forces fatally shoot or injure dozens of fuel porters in the name of confronting "fuel smuggling".
Iran's Baluch minority face entrenched discrimination that curtails their access to education, health care, employment, adequate housing and political office.