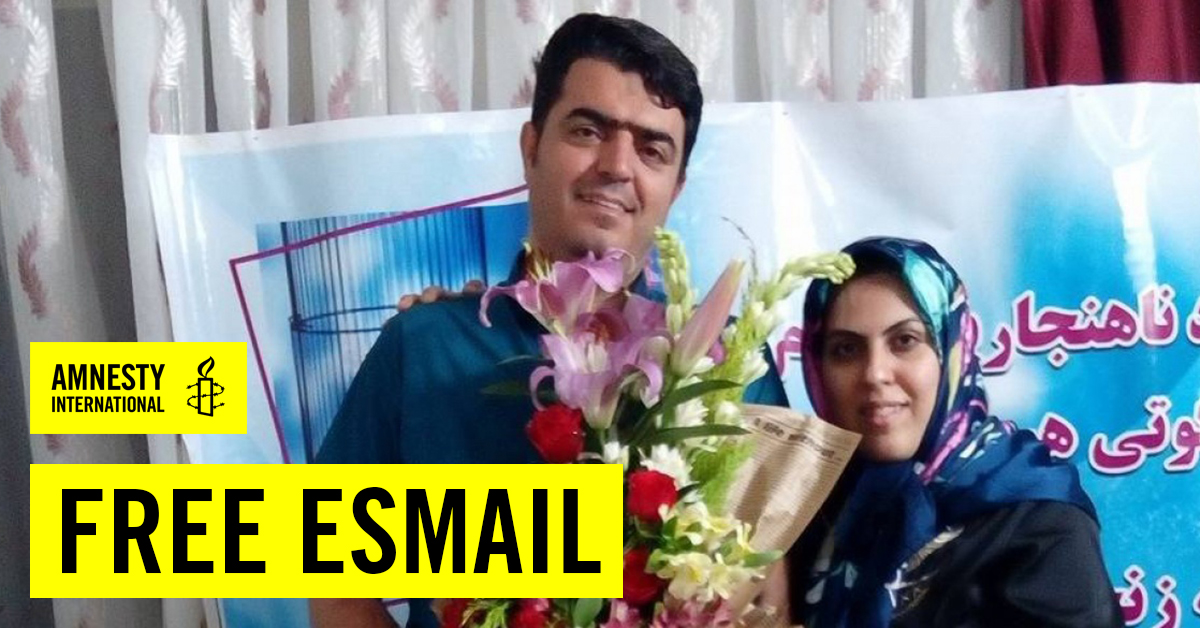 On the eve of May Day 2021, join us in campaigning for the release of all trade unionists imprisoned in the Islamic Republic of Iran!
CODIR calls for the release of Esmail Abdi and all imprisoned trade unionists in Iran, immediately and unconditionally!
CODIR has lent its support to the struggle for the release of all labour activists incarcerated in Iran for no crime other than their campaigning for workers to have fair wages, decent conditions of service, the rights to freedom of association and speech, as well as the rights to form and belong to trade unions. At present, scores of trade union and labour activists are incarcerated and face terrible situations – including Esmail Abdi, General Secretary of the Iranian Teachers Trade Association (ITTA); Mohammad Habibi, ITTA Executive member; Esmail Geraami, a pensioner and pension rights campaigner; Marzieh Amiri, a journalist and labour activist; and Sepideh Gholian, a labour activist.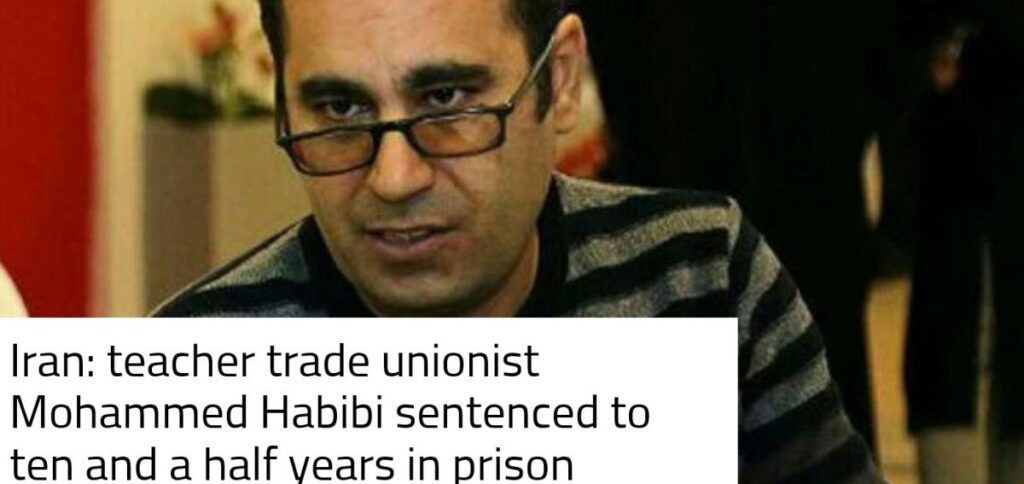 Lawyers' Open Letter Calls for the Release of Political Prisoners in Iran
On Saturday 24 April 2021, an open letter was published, signed by 101 lawyers and legal advocates in Iran, which petitions the Head of the Judiciary, Ebrahim Raeisi, to move for the release of the scores of political prisoners being held in the country's gaols.
The letter read, "You may be aware of four of our colleagues; Ms. Giti Pourfazel, Ms. Nasrin Sotoudeh, Mr. Mohammad Najafi, and Mr. Amir Salar Davoodi – along with a number of civil and political activists, such as Mr. Mohammad Nourizad, Mr. Esmail Abdi, Mr. Farhad Meysami, and Mr. Keyvan Samimi – who, because of their public criticism of the authorities and their policies, have been unjustly imprisoned…
Out of human duty and social responsibility, we call upon you as lawyers to follow up and take urgent action, under any legal pretext you deem appropriate, towards the release of those who have only been concerned for the public good and were prosecuted as a result."
The Ongoing Plight of Esmail Abdi
Amongst the several names referenced to, the release of the open letter once more served to raise the ongoing imprisonment and ordeal of Esmail Abdi, a long-time labour activist and General Secretary of the Iranian Teachers Trade Association (ITTA).
Mr. Abdi – whose case CODIR has continuously covered – was originally a high school mathematics teacher serving in Islamshahr, one of Tehran's deprived outer-districts. Through his activism and outspokenness, raising awareness of the poor conditions and plight endured by his students and colleagues alike, he grew in prominence as a trade unionist and advocate for labour rights in Iran. For these activities, he was arrested and incarcerated several times by the regime – this included significant spells in solitary confinement and a suspended sentence of ten years' imprisonment issued in 2010. He was involved in the organising of peaceful demonstrations and sought to represent the ITTA, an affiliate of Education International, at conferences abroad. Indeed, immediately prior to his detention in June 2015, he was en-route to neighbouring Armenia – where he was to obtain a travel visa from the Canadian embassy, which would allow him to attend Education International's Seventh World Congress in Ottawa the following month – when he was stopped at the border, prevented from crossing, and told he would have to recover his confiscated passport from the public prosecutor's office at Tehran's notorious Evin Prison. Upon doing so, he was promptly detained and then later sentenced to six years' imprisonment on charges of having acted against national security.
In March 2020, with the rapid spread of coronavirus in Iran, Mr. Abdi and several other high-profile detainees were given temporary release by the authorities who were no-doubt mindful of the risk of the virus reaching the country's teeming prisons, and the huge outcry and repercussions this could spark amongst an already incensed and unsettled population. However, just prior to May Day 2020, upon presenting himself to the authorities at Evin Prison as required under the terms of his release, Mr. Abdi was rearrested. This time he faced spurious charges of creating propaganda against the regime and, once again, having acted against national security – based on nothing more than his continued involvement in trade union activism. The ITTA issued a statement condemning the authorities' attempt to increase his original sentence to ten years' imprisonment on the re-tabled charges.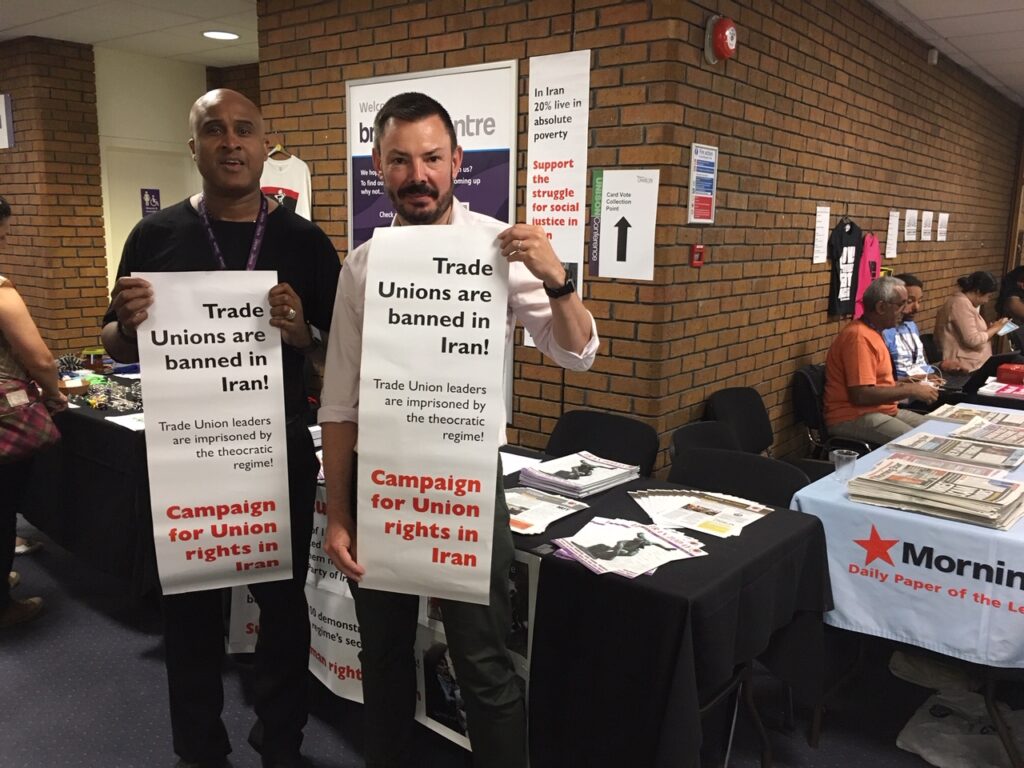 Disorienting relocation and exposure to illness and danger as tools of torture
Months into his re-incarceration, in August 2020, Mr. Abdi and fellow imprisoned labour rights activist, Jafar Azimzadeh, were informed by the Evin Prison authorities that they had tested positive for COVID-19 and were moved into quarantine in the gaol's infirmary. The following week, both of them returned a negative test. However, despite this, they were inexplicably confined to quarantine with other prisoners who had tested positive – several of whom were seriously ill – without any sufficient measure taken to prevent the pair from becoming infected and falling unwell, even though they both suffered from pre-existing health conditions rendering them particularly vulnerable. Within days, Mr. Azimzadeh was transferred as an emergency to Tehran's Taleqani Hospital from the infirmary due to a severe deterioration in his health.
On 21 February 2021, authorities in Iran announced the death of 33-year-old prisoner of conscience, Behnam Mahjubi, who was convicted of participating in a demonstration along with other members of the Sufi Gonabadi Order in 2018 and had been serving his two-year sentence since June 2020. Mr. Mahjubi, who was known to have a severe panic disorder and had been deemed unfit for imprisonment by a psychiatrist and doctors from Iran's Legal Medical Organisation, died in murky circumstances after authorities claim that he succumbed to medication poisoning. His family refused to bury their son unless an independent and full autopsy was carried out to determine his cause of death, further alleging that his death was owing to neglect by the prison authorities and that he had been denied timely medical care.
Esmail Abdi was amongst several notable political prisoners who condemned the treatment of Mr. Mahjubi and the circumstances that led to his death, and delivered a poetry reading and impassioned speech at his prison memorial service. For this, Mr. Abdi was transferred from Ward 8 to Ward 6 of Evin Prison – contrary to the recognised principle and protocol of segregating prisoners according to their category, and subjecting him to a harsher regime and set of conditions.
On 8 March 2021, Mr. Abdi began a hunger strike protesting his transfer to Ward 6 and his new restrictions – which included the limiting of telephone calls with his family to once a week and stipulated that a prison officer must be present to monitor the call.
And, in the latest round of his long-running ordeal, sources in Iran revealed that on 17 March 2021 – days before the Iranian New Year and following multiple transfers to different prisons and detention centres over the course of just a week – Esmail Abdi was moved to the quarantine ward of the Central Prison of Alborz, where he has been placed with 30 other prisoners in quarters designed to hold 17 individuals at maximum capacity. Serious concerns are growing for the health and welfare of Mr. Abdi given what appears to be a concerted attempt by the Islamic Republic authorities to break his resolve once and for all.