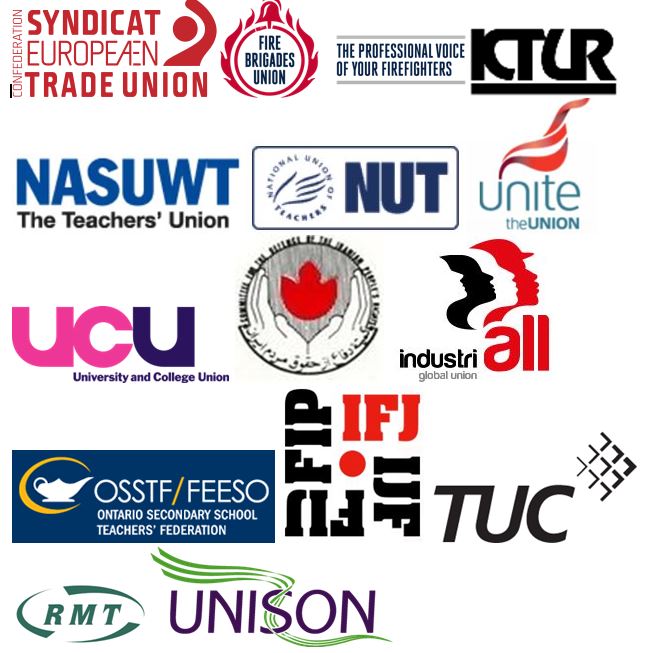 1st May 2016
May Day Appeal
In January 2016 the Iranian government signed an agreement to observe international conventions and IAEA rules on the development and use nuclear technology.  The world public heaved a sigh of relief that a major threat to conflict in the Middle East had been removed.  However, the government of Hassan Rouhani has failed to take measures to ease pressure on trade union activists and human rights campaigners in the country.  On the contrary, all evidence points to the fact that the Iranian regime is not showing any signs of moving in the direction of enacting crucial ILO conventions 87 and 98
Scores of trade unionists are in prison.  Amongst them are:
Ismail Abdi, General Secretary of the Iranian Teachers' Trade Association (ITTA) facing 16 years imprisonment;
Jafar Azimzadeh, president of the Independent (Free) Union of Iranian Workers, sentenced to six years in prison;
Mahmoud Beheshti, a leading member of the Iranian Teachers' Trade Association (ITTA), who is currently on hunger-strike in protest against his detention.
The above are some prominent examples.  Many other trade unionists languish in Iran's prisons on flimsy charges, which are a cover for punishing them for engaging in trade union activity.
In protest at their detention and treatment Ismail Abdi and Jafar Azimzadeh will go on hunger strike later this week.  In a joint letter from prison the two detainees state:
"We declare that – in protest against below poverty line wages and salaries, prohibition of the right to strike…the infringement of our rights by the Iranian regime and the absence of legitimate reasons for incarcerating protesters – we are beginning an unlimited hunger strike to commence on 29 April."
At the same time, 36 independent journalists, including leading figures in the media, have been incarcerated on spurious charges.
We, the undersigned trade union organisations, call on the Iranian government to adopt a stance compatible with its international obligations in respect of trade unions and human rights.  Until this is the case, international public opinion cannot trust that the Iranian government truly wishes to come in from the cold.
On the eve of May Day, we call on the Iranian government to:
Implement all relevant ILO conventions, especially 87 and 98, guaranteeing the rights of workers to belong to the trade union of their choice and be active within it;
Release immediately all trade union leaders and activists from detention;
Refrain from charging trade union activists, who have not committed any crime, under the draconian penal code;
Allow the trial of all trade union activists and leaders to be conducted in accordance with internationally recognised norms, including access to defence lawyers and the presence of international observers from the relevant international trade union rights organisations;
Release all imprisoned journalists and guarantee freedom of the media to report from hindrance;
Allow Iranian trade unions to organise and publicly celebrate May Day as permitted under Article 27 of Iranian constitution.
Supported by:
IndustriALL global union,
The European TUC,
The International Federation of Journalists
OSSTF/ FEESO, The Union of Secondary Teachers of Ontario, Canada
The International Centre for Trade Union Rights
TUC
UNITE
UNISON
NUT
NASUWT
UCU
RMT
FBU
CODIR