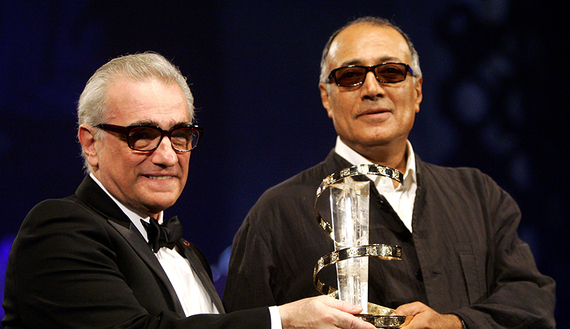 Iranian film legend Abbas Kiarostami died July 4 at the age of 76 in France, thousands of miles away from his place of birth in Tehran, where he and other filmmakers ushered in the so-called Iranian New Wave. While Kiarostami had recently been in Iran receiving treatment for cancer, the news of his death has shocked Iranians and film lovers across the world.
"Iran has lost a towering figure in international cinema," tweeted Iran's Foreign Minister Mohammad Javad Zarif. He called the filmmaker "ostad," an honorific that means "maestro." Culture Minister Ali Jannati called Kiarostami a humanist who introduced a new cinema that brought the Iranian arts to the world. Majid Majidi, another Iranian New Wave filmmaker who most recently directed the government-funded mega-budget film about the Prophet Muhammad, said that Kiarostami "was not just a filmmaker, he was a philosopher." Academy Award-winning director Asghar Farhadi, who became an international name with his 2011 film "A Separation," credited Kiarostami for paving the way for him and other film directors.
Kiarostami's style was widely considered subtle and minimalist, but American film director Martin Scorsese described his work as "overflowing with beauty and surprise, patiently and exquisitely captured." It was also described as apolitical, though some would differ on that point as well. Unlike those of other famous Iranian directors, such as Jafar Panahi, whose film "Offside" was overtly about the ban on female attendance in soccer stadiums, Kiarostami's politics were subtle yet piercing.
His 1990 film "Close-Up," about a man who cons a family into thinking he is famous Iranian film director Mohsen Makhmalbaf, is based on the a true story that became a public scandal in Iran. Kiarostami was able to talk all of the original people involved in the story into re-enacting their experiences for his narrative film. While the work explores identity and illusion, one of the main unspoken themes of the film is the backdrop of poverty and desperation of the 1980s for many Iranians who were ravaged by eight devastating years of war. Like many of Kiarostami's films, it was not well received in Iran and only later found critical success when it reached an international audience.
His 1997 film "Taste of Cherry," which won the Palme d'Or at Cannes, broached the topic of suicide, an act forbidden in Islam and a taboo subject in the Islamic Republic of Iran. His 1999 poetic film "The Wind Will Carry Us" is about a film director who travels to a remote Kurdish village to secretly film the mourning rituals of the town. While the film explores the urban-village clash, the location, which highlights the situation of an ethnic minority in Iran, was perhaps no accident.
Even in his early short movies, Kiarostami's work, while appearing to depict the routine, was tinged with political messaging. His 1982 short film "The Chorus" depicts the generational rift in Iran via a hard-of-hearing grandfather unable to hear his granddaughter, who is locked out of the home and yelling for him. Only when the granddaughter calls on her friends and the children call for him in unison does the grandfather hear them and open the door.
In one of his last films in Iran, "Ten" (2002), Kiarostami explores misogyny through the relationship between a mother who works as a taxi driver, a rare profession for a woman in Iran, and her young son. The son is depicted as a childish brat who still feels entitled to yell at and speak over his mother. The film also unapologetically touches on the controversial topic of prostitution in Iran when the mother gives a ride to a prostitute.
While he helped put Iranian cinema on the map, in his final years Kiarostami chose to avoid Iran's increasingly restrictive artistic environment. In 2013, he said the situation in Iranian cinema had "never been this dark."
In 2014, Kiarostami became embroiled in a domestic controversy when Iranian filmmaker Ebrahim Hatamikia criticized him for focusing on personal films while other directors were extolling the sacrifices of those who fought in the Iran-Iraq War. When Kiarostami was asked to respond, he defended works such as his 1987 movie "Where is the Friend's Home?" which explores the themes of civic duty among young friends. Kiarostami criticized those who were granted large government budgets to make war films for an ever-shrinking audience and then controversially referred to the Iran-Iraq War as a war "that had no meaning." A number of conservative media outlets and officials condemned him for the comment. The Iran-Iraq War is called the "Sacred Defense" in Iran and considerable government resources go to keeping alive the memories and sacrifices of the hundreds of thousands of Iranians who died in it.
However, even the conservative media outlets that harshly attacked him have made their peace with the master filmmaker. Conservative Mashregh News praised Kiarostami in an obituary headlined, "Kiarostami did not sell out his homeland." Hatamikia, also burying the hatchet, called Kiarostami "the most original hero of Iranian cinema." Kiarostami's picture, with the trademark sunglasses he wore due to an eye condition, was featured on the front page of a number of Reformist newspapers with headlines that played off the titles of some of his greatest films.