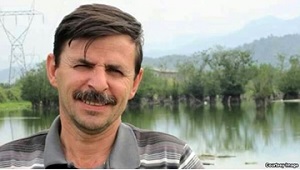 PRESS RELEASE – FOR IMMEDIATE RELEASE
9th December 2015
The Committee for the Defence of the Iranian People's Rights (CODIR) has today launched a Christmas Day appeal calling for the release of leading teachers' trade unionist, Mahmoud Beheshti Langroodi. The former spokesperson of the Iranian Teachers' Association has announced that in protest against his 9-year prison sentence he has gone on hunger strike.
Beheshti was sentenced in June 2013. His original sentence was for four years in prison, on trumped-up charges of "illegal assembly" and "collusion against national security", one extra year in prison for propaganda against the regime and a further four years of suspended imprisonment making a total of 9 years in prison.
Beheshti contests all of the charges that were brought against him but also the violations of the judicial system which led to his internment. Mohammad Habibi, a board member of the Iranian Teachers' Association which has been supporting Beheshti, stated that in the trial session "he was only given five minutes to defend himself and, despite his protests, there has been no change in this unjust verdict during these past years."
In a letter addressed to the authorities of the Islamic Republic last week more than 1400 Iranian teachers called for justice for Mahmoud Beheshti Langroodi. The letter stated, "As you are aware, educators and teachers have been trying to assist in solving the problems of finance and the conditions of schools in disadvantaged areas and for changing the education system ….. Unfortunately, in the meantime, a number of teachers and educators have been arrested and imprisoned for reasons contrary to the constitution."
The letter goes on to cite the case of Mahmoud Beheshti specifically. The teachers signing the letter call on the authorities to release Beheshti and arrange for his retrial in a legally constituted court in the presence of a jury to decide his case.
The letter draws particular attention to International Labour Organisation (ILO) conventions 87, guaranteeing freedom of association, and 98 which guarantees the right to collective bargaining. These conventions, and other rights of Iranian workers, are routinely flouted by the government in Iran.
CODIR also fears for the fate of a number of other trade unionists imprisoned for engaging in nothing more than trade union activity. These include Esmail Abdi (General Secretary, Teachers' Association), Ali-Reza Hashemi (President, Teachers' Association), Rassoul Bodaghi (Teachers' Association), Mahmood Bagheri (Teachers' Association), Mohammad Davari (Teachers' Association), Abdulreza Ghanabri (Teachers' Association), Behnam Ebrahimdzadeh (Painters' and Decorators' Union), Mohammad Jarrahi (Painters' and Decorators' Union).
CODIR Assistant General Secretary, Jamshid Ahmadi, speaking on the eve of the 67th anniversary of the Universal Declaration of Human Rights on 10th December 1948 underlined the significance of the Christmas Day appeal for the release of Beheshti in keeping the fate of trade unionists in Iran in the public eye.
"Trade union rights are human rights. Over the years we have received many reports of workers and trade unionists being arrested, imprisoned, fired and deprived of their livelihood," he said. "Many trade union activists are serving prison sentences for the sole 'offence' of being trade unionists and campaigning for decent wages and improved working conditions. We hold that no workers should be detained in prison for demanding their internationally accepted rights."
As CODIR has emphasised previously, the action against trade unionists is part of a coordinated policy of the Islamic Republic of Iran, to maximise pressure upon activists, their colleagues and family members in order to silence them and pressurise the trade union movement in Iran to stop demanding basic human rights, better working conditions and fair wages.
ENDS
Note for Editors
Contact Information:-
Postal Address:
B.M.CODIR
London
WC1N 3XX
UK
Website: www.codir.net
E-mail: codir_info@btinternet.com
Further information for Editors
CODIR is the Committee for the Defence of the Iranian People's Rights. It has been established since 1981 and has consistently campaigned to expose human rights abuses in the Islamic Republic of Iran.
CODIR has worked closely with the trade union movement in the UK, the peace movement, all major political parties and Amnesty International to press the case for an end to torture in Iran's prisons.
CODIR has published Iran Today, its quarterly journal, since 1981, explaining the latest developments in Iran and the most effective way that the British public opinion could demonstrate its solidarity with the people of Iran.
In recent years CODIR has worked closely with Stop the War Coalition and has been vocal against any form of foreign intervention in the internal affairs of the nation.
Amongst CODIR's affiliates are UNISON, NUT, FBU and RMT and 100's of trade union local and regional organisations, Trades Union Councils.